2 Ups & 6 Downs From Last Night's WWE SmackDown (Aug 15)
4. Another PPV Match Given Away On Free TV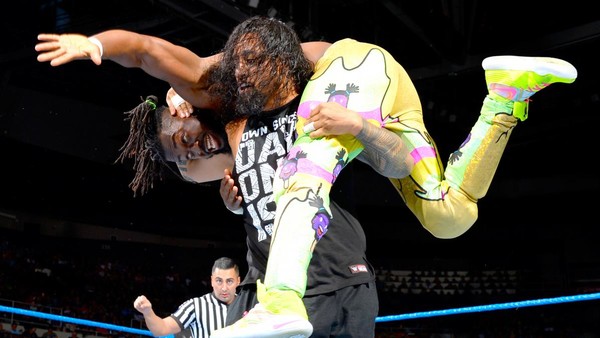 In terms of pure action, The Usos vs. The New Day was one of last night's better in-ring offerings. It wasn't great, but it was solid enough, with both teams doing pretty much everything they could within the eight minute window, but again, the macro trumps the micro.
WWE have given away a bunch of SummerSlam matches this week. First, it was Finn Balor vs. Bray Wyatt and Akira Tozawa vs. Neville on Raw, and now this. The SmackDown Tag Team Champions weren't on the line, and The New Day lineup may be slightly different on Sunday, but just like Rusev vs. Orton, this is an exceptionally lazy way to book a feud.
The Usos won, so not only did WWE out their complete lack of imagination, but they managed to make their Tag Team Champions look weak in the process. No amount of solid action can compensate for this.
These two teams are probably going to tear the house down on Sunday, just like they did at Battleground. They're two of the brand's hottest acts at the moment, and they deserve better than to fall victim to lazy 50/50 booking, as neither team will benefit from this in the long run.