20 Best Wrestling Tag Team Matches Ever
Is tag wrestling a dying art? Maybe, but we'll always have the classics...
Tag teams have been an integral part of professional wrestling's makeup for decades. One-on-one action generally takes precedent, but as impossible as it seems in 2017, there have been various points in history where tag teams have at least matched their singles counterparts.
WWE place little emphasis on teams these days, but the company have played host to a number of tag wrestling's biggest boom periods, particularly during the Attitude Era, when tandems like Edge & Christian and The Hardy Boyz were regularly stealing the show.
Tag wrestling was immensely popular during the territorial era, when units like The Midnight Express and Road Warriors were among the biggest acts in the business. The art has also remained prominent in Japan and especially Mexico, where fast-paced six-man contests are a huge part of Lucha Libre's DNA.
When a tag match clicks, nothing can match it, and some of the greatest matches in history have come in team-based scenarios. Great tag wrestling typically revolves around two sets of performers becoming something greater than the sum of their respective parts, building a unique dynamic based on teamwork, cohesion, and fluid double-team moves that a singles match just can't replicate.
From classic southern psychology to all-action spotfests, here are the 20 best tag team matches ever...
20. KENTA & Taiji Ishimori Vs. Kota Ibushi & Naomichi Marufuji (NOAH - November 5th, 2005)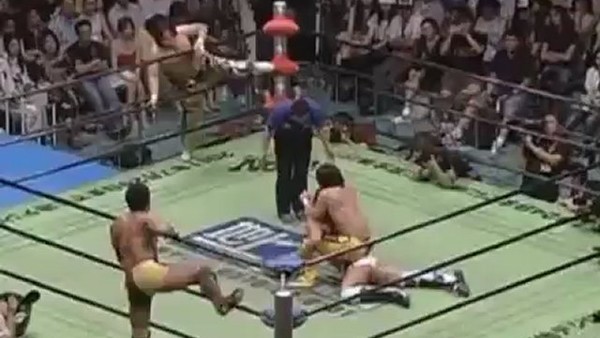 Pro Wrestling Noah are struggling these days, but they were Japan's most exciting promotion in 2005. Mitsuharu Misawa had built an exciting foundation after breaking away from AJPW a few years prior, and they were absolutely rolling at this point, with top notch matches across the board on almost every show.
This particular bout featured two men who should be familiar to anyone who has followed WWE closely over the past few years. Now known as Hideo Itami, KENTA had to wait a few more years to become NOAH's linchpin, but was already regarded as one of the most exciting wrestlers in the world. Kota Ibushi, meanwhile, was just one year into his wrestling career, but his talent was obvious, and this was his star-making performance.
KENTA and Marufuji kicked things off with a blazing exchange, whipping the crowd into a frenzy, and ensuring they'd be on the edge of their seats throughout. Ishimori more than caught the eye too, pulling off some outrageous athletic exchanges, and holding his own throughout Ibushi's coming out party. A tremendously well-paced match, they kept the energy and intensity high for close to 22 minutes, culminating in one of the best GTS executions of KENTA's career.