20 Obscure WWE Tag Teams You Totally Don't Remember
7. The New Midnight Express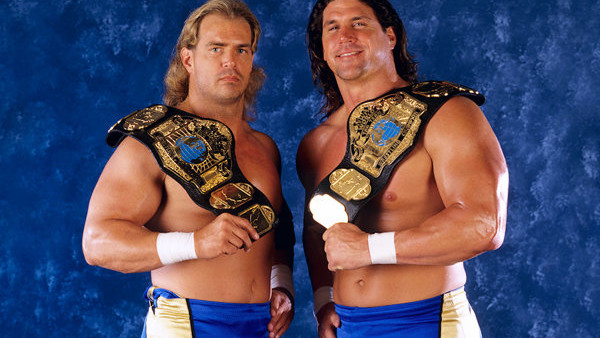 The Midnight Express are one of the most important tag teams in professional wrestling history. The New Midnight Express? Not so much.
Another of WWE's awful attempts at recreating a legendary tag team of yesteryear in a modern setting, The New Midnight Express was comprised of "Bodacious" Bart Gunn and "Bombastic" Bob Holly. Ridiculous names aside, the duo brought little pedigree with them, and primarily featured as part of the 1998 NWA invasion angle.
Managed by Jim Cornette, the New Midnights were able to wrest the NWA World Tag Team Championships from the Headbangers during this time, but that was about the extent of their success. They had the original Midnights' manager in their corner, but the pairing felt more like a rib on Cornette than a tribute to Bobby Eaton and Stan Lane, and they soon became nothing more than an enhancement group.
Cornette has since confirmed that he hated the idea, and that he doesn't consider Holly & Gunn's team as a true continuation of the Midnight Express name. They were a couple of lower-midcard guys paired together in hopes that the name would draw fans of the original Midnight Express towards the horrendous NWA invasion story, but the New Midnights flopped completely.