20 Things You Probably Missed From WWE Raw (June 14)
Charlotte Flair drops f-bombs; Raw stars mimic AEW's Andrade; WWE teases a "Super Showdown".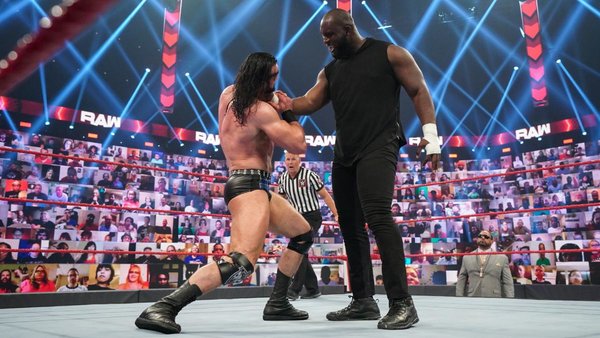 The biggest stories coming out of Monday's Raw included Drew McIntyre pinning WWE Champ Bobby Lashley before they go at it inside Hell In A Cell, Eva Marie's much-hyped re-debut and Charlotte Flair vs. Rhea Ripley suddenly becoming a feud fans should care about.
Who saw that coming after weeks/months of sub-par nonsense between Raw's women?
This week's show had tons of little hidden gems for you to enjoy too, and the best of them are included here. Some WWE stars got sweary, others paid tribute to fallen friends, one even did his best impression of AEW new boy Andrade, and a few made their matches totally unique. Plus, there was blood, silliness and a throwback to Drew McIntyre's indy career.
Raw's writers may also have tested the waters on a potential "showdown" for one of those future Saudi Arabian specials (which, if recent reports are to be believed, are on the comeback trail) as well. Is it a match everybody will trip over themselves to see? Probably not, but "attractions" matter to Vince McMahon.
Here's everything you probs missed...