3 Ups & 5 Downs From WWE SmackDown (May 27)
Downs...
5. Remember This When The Tourney Starts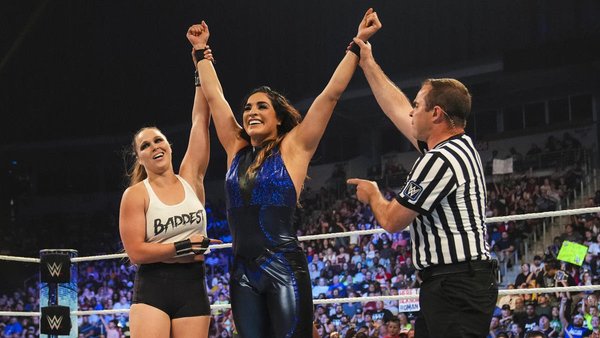 Shotzi tried to rally the rest of the women's division against Ronda Rousey/Raquel Rodriguez, then got locked in the dressing room like an idiot. As if that's not bad enough, the women she fired up ended up looking like glorified jobbers against Ronda and Raquel minutes later.
WWE will book Natalya and Shayna Baszler as a threat in that coming tournament for the now-vacant Women's Tag-Team Titles. Should you care? Nah, not really, because they're constantly booked like grumpy losers who whinge and then eat defeat.
SmackDown probs would've been better off with that Ronda vs. Raquel rematch after all.
It also sucks that Baszler ate the pin in the tag when Natalya was right there. Honestly, Shayna's WWE career has plummeted so far there might not be any rescuing it at this point. Company writers need to sit down and ask themselves who this booking really helped.