4 Ups & 3 Downs From AEW Rampage (May 5)
Is it alright to admit we're all over this Matt Hardy "Deletion" stuff in 2023?!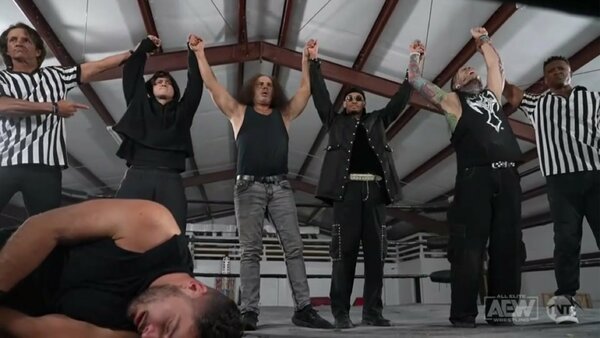 Hopefully, The Firm has been "deleted" permanently.
What started as a vehicle for MJF's success quickly turned into an unwanted comedy sideshow that's struggled to convince ever since. Now, AEW has deemed it necessary to dust off a now-ancient gimmick (or, at least, that's what it feels like in 2023) and book one of those "Hardy Compound" set pieces.
This week's Rampage was at its best when it fed into events on Dynamite by delivering short, punchy promos, or gave fans popular wins by the Lucha Bros, El Hijo Del Vikingo and Mark Briscoe. The show was at its worst when it dived into creaking IMPACT territory to become another promotion guilty of buying into cinematic BS when that ship should've sailed years ago.
Your tolerance for such hijinks will vary, but this writer is pretty much over it. The fact AEW dedicated so much time to "The Firm Deletion", and this fan's reaction to it, perhaps makes it surprising that Rampage had more 'Ups' than 'Downs'.
Tony Khan has some Dynamite exposition to thank for that.
Here's all the good and bad from Friday's topsy turvy offering.