4 Ups & 4 Downs From AEW Dynamite (12 April - Review)
Orange Cassidy highlights uneven Dynamite, doing rather too good a job of being a secret "Pillar"...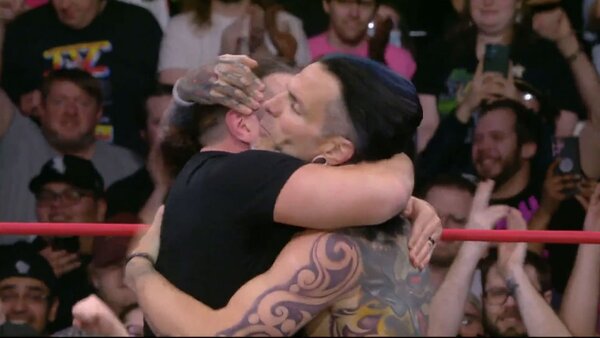 Jeff Hardy returned on last night's Dynamite, and such a development doesn't feel like it fits the Ups and Downs format.
Somebody who has struggled with addiction, and knows that it is profoundly difficult to overcome, might welcome Hardy's tenth life. Somebody affected by vehicular manslaughter caused by an impaired driver might argue that nobody is being insensitive to addiction and that a millionaire who has been awarded one million opportunities to be a millionaire should order a taxi to get home.
The crowd erupted when Hardy returned to assist Matt as the Firm beat him down. It was clearly a popular decision in the arena; from a purely promotional standpoint, the return was a success and drove a hot angle. Subjectively, it was impossible to care. Even if the nostalgia was felt - it isn't - it's impossible to invest in Hardy because an irresponsible f*ck up is never too far away beyond the very reasonable ethical concerns that accompany the viewing experience. Does Hardy deserve another chance? Will he justify it?
Hardy's presence in 2023 poses the wrong questions.
Get an Uber, Jeff, and godspeed.
Onto the review...