4 Ups & 6 Downs From AEW Dynamite (Sept 28)
Downs…
6. Chris Jericho's Celebration Falls Flat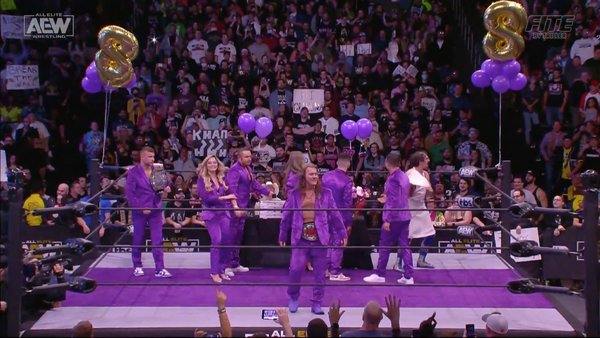 The current Ring Of Honor Champion is having an excellent year - and more on that later - but he's never maintained a 100% record with this sort of thing, and an idea that already felt forgotten half way through the week played out as such in a weak opening to the show.
The Jericho Appreciation Society looked resplendent in matching purple, but that was just about the kindest thing to be said about a meandering laugh-free excuse to expand a few minor developments in the Jericho/Daniel Garcia angle and offer Luigi Primo another bizarre cameo.
Sending Bryan Danielson out there to out-Sports Entertain the Sports Entertainers is the sort of creative crime AEW must never, evvver commit aga-yn, though. "Don't do what WWE does" was the subtext for so long, and many fans gravitated towards it. As many will be pushed away with examples of the opposite, and some of that was reflected in the impromptu match that followed...