4 Ups And 4 Downs From Last Night's WWE SmackDown (May 21)
There were highs and lows featuring the divas this week.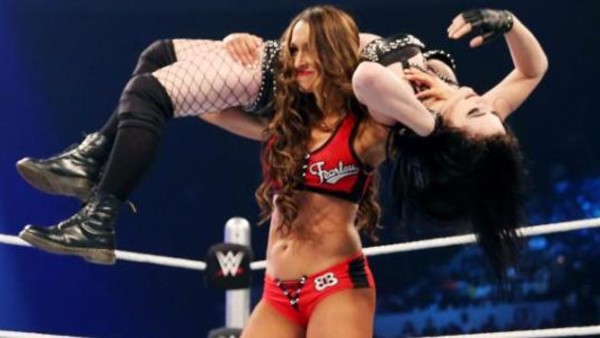 This week's Smackdown was part of a very busy week from WWE since they had a solid Payback show on Sunday, a really good Raw episode on Monday and another exciting NXT Takeover special on Wednesday. With Smackdown taping on Tuesday and airing in the US on Thursday it definitely got lost in the shuffle. That's what happens when WWE doesn't treat it like a major show. The good news about this week's Smackdown is that there was at least some storyline progression. There are some weeks where they barely do anything in that regard. However, this week there was a good focus on the Divas Title, Tag Team Titles and some of the other feuds that started to develop on Raw. That's what happens when you only have two weeks until the Elimination Chamber show. Here are the match results from this week's Smackdown. Lucha Dragons d. The Ascension, Los Matadores, Kidd/Cesaro Macho Mandow & AxelMania d. Heath Slater & Adam Rose Dolph Ziggler d. King Barrett R-Truth d. Stardust Dean Ambrose d. Bray Wyatt The only match from the show that really won't be addressed in the ups and down is that Mandow/AxelMania win. It's tough to decide if it's funny or sad at the moment, so it will be left off for now. Let's get to those ups and downs.