4 Ups And 4 Downs From WWE Hall Of Fame 2023
3. Significant Others Kept Offscreen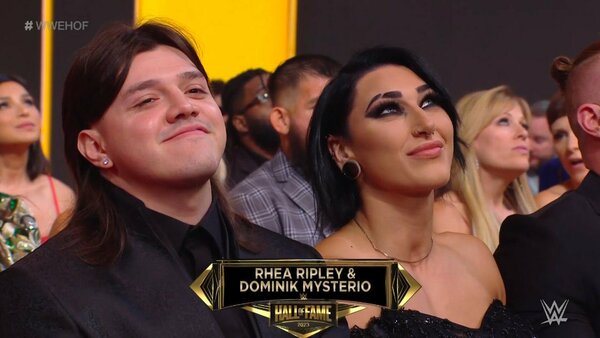 Wrestlers dating someone from a different company is not uncommon these days, especially with so many people switching between promotions over the course of several years.
So it shouldn't have surprised that two current AEW wrestlers were actually onstage during the WWE Hall of Fame ceremonies Friday night. Charlotte Flair directly alluded to one of them during a backstage kickoff show interview, where she referenced that her outfit matched her husband's and that they looked fabulous together. Her husband, of course, is Andrade El Idolo.
During the ceremony itself, Charlotte was seen in the crowd with a bearded man sitting just offscreen to her right, but it clearly was Andrade. Just seconds earlier, the camera caught her WrestleMania 39 opponent, Rhea Ripley, seated amongst the wrestlers with storyline boyfriend Dominik Mysterio on her right. What the cameras missed was another bearded AEW wrestler, Buddy Murphy, on Ripley's left. Murphy is Rhea's actual boyfriend.
Where things got weird is that later, when Dominik and Rhea were part of the Rey Mysterio induction segment, Buddy was mysteriously gone, replaced by Judgment Day stablemate Damian Priest.
Truthfully, WWE should have just not referenced them and had them stay completely off-camera than to allude to these guys and then tease including them just a bit. It felt a bit artificial.