4 Ups And 6 Downs From NXT Vengeance Day
Titles change hands, the cage gets a workout, Toxic Attraction turns toxic on each other.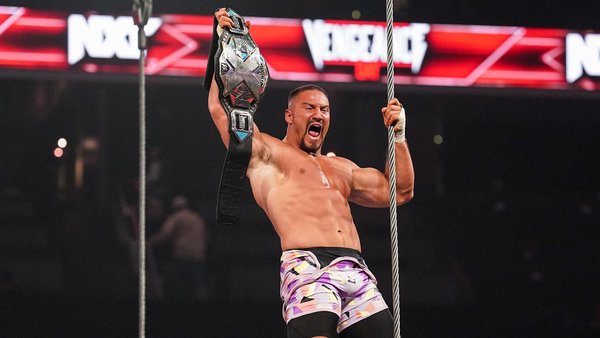 NXT stepped out from the friendly and cramped confines of the WWE Performance Center Saturday for its latest PLE, Vengeance Day, delivering a mixed bag of a show that despite its shortcomings still needs to be considered a success for the brand.
A hot crowd, energetic efforts from the superstars and some surprising title switches definitely contributed to the aura surrounding the event. This wasn't an overly stipped-up show, and it wasn't overbooked with nonsense. Most of the matches saw the "right" person win, and the show closed out with the NXT Champion's next challenger – Carmelo Hayes – stepping out to make his presence felt.
Match of the Night honors have to go to Wes Lee and Dijak, who opened the show and set the bar so high that no one could top it. Had half the matches even reached their level, this would have been a huge, unqualified success. But the women's tag title match was a bit sloppy and disjointed, the NXT Women's Championship match was disappointing, and the vaunted 2-out-of-3-falls match between Hayes and Apollo Crews underperformed lofty expectations.
Still, nothing was actively bad, the energy was high, and there were some really enjoyable moments. It's something to build off, and it gives you hope that you'll see improvement every few months as these shows continue.
Let's get to it…