4 Ups And 9 Downs From WWE Super Showdown 2020
Downs...
9. Mansoor Wins Uninspired Match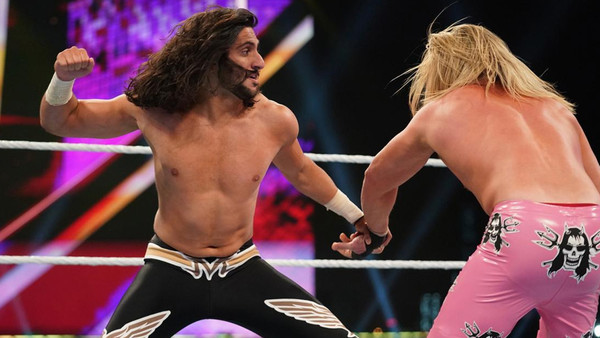 When Mansoor defeated Cesaro in an upset at Crown Jewel last fall, it felt like a real moment.
Cesaro gave the Saudi native a pretty good match, allowing Mansoor to showcase his skills and look like a real underdog who hung with a grizzled veteran.
But against Dolph Ziggler Thursday, Mansoor didn't look anywhere as good. Dolph seemed to be phoning it in, opting to hit chinlocks and rake the eyes a few times before hitting a Zig-Zag… which Mansoor kicked out of. He then hit an inverted Sliced Bread #2 before delivering his moonsault for the now-predictable win. (Let's face it: If an NXT wrestler who's barely on TV kicks out of a former world champion's finisher in his home country, he's winning.)
This is probably something to get used to: WWE trotting out its one Saudi wrestler to compete against a main roster superstar who isn't going anywhere so Mansoor can pick up a win and deliver an inspiring message to the fans.
Personally, this writer likes Mansoor and hopes he does well, but let's see him make some strides in NXT or on Raw or SmackDown rather than showing up solely on the Saudi shows because he happens to be a native. Or if you're going to do that anyway, do better than Thursday's bland bout.