5 Biggest Questions About Brock Lesnar's UFC 226 Appearance
Is this the end of The Beast's WWE run?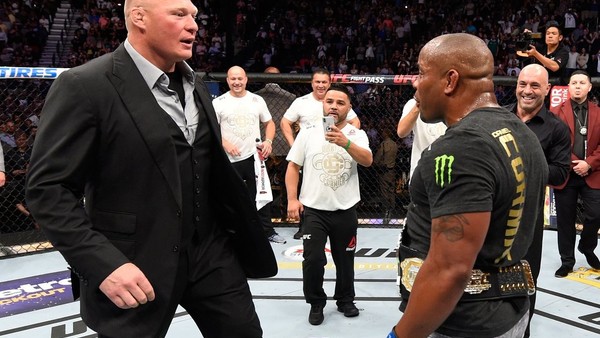 Whilst WWE were welcomed back to Madison Square Garden for a house show last night, in a move not-at-all designed to evict certain independent squatters, Brock Lesnar was all the way across the country sticking his own nose in other people's affairs.
Cageside at UFC 226 in Paradise, NV was a lesser-spotted suited-and-booted Brock, ostensibly in town to enjoy the action. Obviously, things weren't quite that straightforward; where there's Brock, there's bluster. Sure enough, moments after Daniel Cormier successfully vanquished Stipe Miocic to claim the UFC Heavyweight Championship, 'The Beast' stormed the Octagon to challenge the new champ.
The 'impromptu' moment has clearly been in the works for some time - a point hammered home when UFC supremo Dana White confirmed after the show that the pair would meet in a match down the line.
Amidst all the rumours, WWE's bluffs and double-bluffs included, about Brock's contract, and his current status as Universal Champ in abeyance, his 'sudden' Octagon return does raise a number of quite pertinent questions. Is he done with WWE? Will SummerSlam be free of the burden of The Beast? Just exactly what is going on?
5. Did WWE Know About It?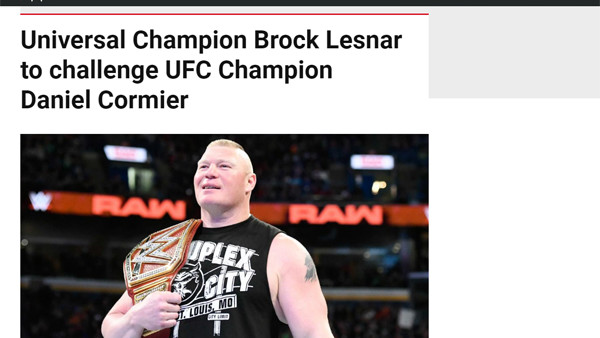 Absolutely.
How do we know? It's really simple: the company advertised Brock's imposition on their official website.
Quite aside from distancing themselves from the story of Lesnar's impending 'departure', WWE appear to be promoting the incertitude surrounding the Universal champ's future as a meta-angle. The website article notes Paul Heyman's "lack of confidence in WWE to find a suitable challenger." It's a statement that massively undermines every single member of the current roster, but does hint at a potential UFC crossover as Brock seeks appropriate competition beyond the company's auspices.
WWE superstars have appeared cageside at UFC events before, but few have went as far as to cross the threshold with Dana White's blessing. Had WWE been caught cold by the news, we could have expected a pretty swift retribution - even at the expense of so much secondary publicity. If there's one thing WWE does best, it's spite.