5 Most Insane Things Happening In Wrestling Right Now (Feb 1)
Hemp belts and confusing Apollo for Shelt.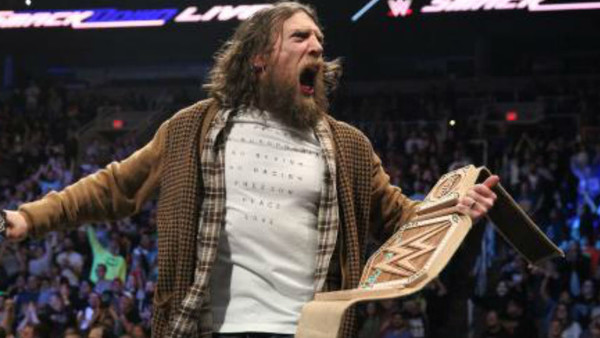 WWE is experimenting with its storytelling approach in a bid to turn dire ratings around, dampen AEW's buzz, and to create a strong foundation on which to attract the most eyeballs possible to the Fox era of SmackDown Live. People have long speculated that competition would finally arouse the sleeping giant. But, on recent evidence, this giant is not asleep.
This giant is as thick as sh*t.
Look at disillusioned midcard acts Rusev and Shinsuke Nakamura. The latter has for several weeks now put the former's wife in positions of danger, culminating at the Royal Rumble in a painful injury. Her ankle and WrestleMania aspirations crushed, Rusev swore vengeance on Nakamura by...
...teaming up with him suddenly on Tuesday and turning heel out of nowhere. It's precisely this sort of nonsensical, erratic and disposable booking that has created a malaise among fandom and talent, and this b*llocks was booked in the midst of WWE's weirdly public mea culpa.
Regressive sex-driven segments. Desperate pseudo-debuts resulting in the immediate normalisation of those promoted to the abattoir. Terrible gags cracked, even in the best programmes, like "Ronda I'm pretty sure still has bruises from Ken. Yeah - Kendo stick!"
Instead, that sleeping giant is aroused by implied sexual assault!
5. What's Hornswoggle Up To These Days...?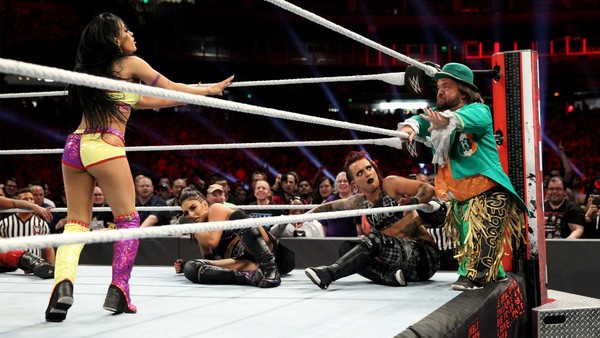 ...his nuts in Zelina Vega's guts, if he'd had his wicked way on Sunday, Jesus. F*cking. Christ.
During the Women's Royal Rumble match, Zelina Vega concocted a cunning plan. Instead of wrestling, which we are otherwise told women enjoy doing nowadays, Vega hid underneath the ring. We were reminded of this several times, which honestly was welcome reprieve from the botch-fest elsewhere. Maybe we were in for a Santino Marella-esque spot at the finish, where Vega was to make us feel an unbearable anxiety at the idea of her eliminating Becky Lynch.
Or maybe Hornswoggle could chase her backstage under the implication that he wanted to have sex with her, despite Vega showing absolutely no sign of consent.
What else, though? What else was implied here? Vega acted repulsed at 'Swoggle, who showed no sign of correctly interpreting the signal. And yet, he kept coming. He chased her backstage. What would have happened, had he cornered her? Would he have told her off for trespassing on his property, because in canon he lives there? He didn't look angry. He looked more horned-up than Jim Ross on Twitter.
If this was a rib at the expense of Austin Aries, then that's...OK. The implication otherwise was not.