5 Seriously Underrated WWE Hell In A Cell Matches
Hella overlooked.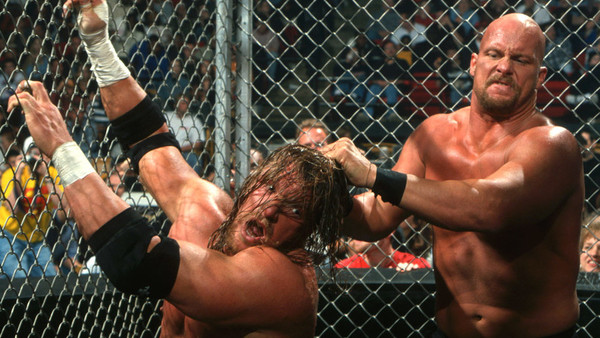 WWE No Mercy 2016 is in the books and while there will be plenty of fallout on this week's Smackdown, as far as pay-per-views go it is now old news. Now WWE can turn their attention towards the Raw-exclusive Hell in a Cell, which will go down a little under three weeks from now.
Scheduled for the event so far is Seth Rollins versus Kevin Owens for the WWE Universal Title, Roman Reigns versus Rusev for the US Title and Charlotte versus Sasha Banks for the WWE Women's Championship, all of which will take place inside the Cell.
WWE decided to create a pay-per-view around the Cell structure in 2009 and have held the event every year since then. Although the Cell itself has lost a lot of its lustre over the years due to over-saturation and the dilution in violence that is a consequence of the PG rating, the show can usually be counted on to deliver good matches, even if they don't quite have the lasting effect of Cell matches of times gone by.
The Hell in a Cell is one of WWE's best original match concepts (although it was inspired by cage matches of the 1980s) and has housed many classic contests over the years. Fans still rave about Shawn Michaels and The Undertaker's initial Cell meeting, Mick Foley being broken by God in half and Foley's first, very emotional retirement at the hands of Triple H today.
For all the iconic moments and barbaric matches, there are still a few Cell clashes that have slipped under the radar and perhaps don't get the credit they ought to. Here are, in my mind, five seriously underrated Hell in a Cell matches...
5. Rikishi Vs. Steve Austin Vs. The Rock Vs. The Undertaker Vs. Kurt Angle Vs. Triple H - Armageddon 2000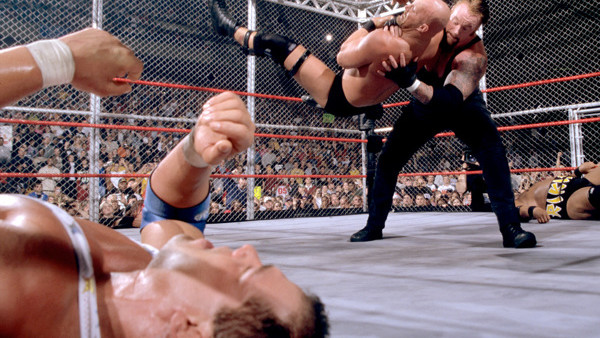 I'm sure you'll look at that list of Hall of Fame talent (and Rikishi - oh no, wait, he actually is in the WWE Hall of Fame) and wonder how it could possibly be consider 'underrated'. The Rock, Steve Austin, The Undertaker, Triple H and Kurt Angle are some of the greatest wrestlers of all-time and the match took place during one of WWE's most creatively-satisfying periods, so what gives?
I would guess it's just a case of there having been so many Cell matches over the years that this one simply got lost in the shuffle a little. But come on now - this is Rock, Austin, Triple H and 'Taker during their prime years and, although he hadn't quite hit his stride as a worker just yet, Angle did a hell of a job keeping up. As you can imagine, this one was just a giant brawl, with guys pairing off and unleashing some serious violence.
Eventually, the brawl escaped the confines of the Cell and the sextet began throwing down around the ringside area. Then Rikishi and Undertaker decided it'd be a good idea to climb the top of the structure. Turned out it wasn't such a good idea for Rikishi, who ended up getting chokeslammed off the side of the cage onto a carefully placed pickup truck full of sawdust!
The dramatic closing stretch saw those that were still moving trading finishers, with Angle just sneaking the win following a Stone Cold Stunner on The Great One. This one has held up surprisingly well and is a lot of chaotic fun. At the time it also made people really want to see the forthcoming Austin/Triple H blowoff match as well as The Rock versus Angle, so kudos to all involved.