5 Seriously Underrated WWE Hell In A Cell Matches
4. CM Punk Vs. Ryback - Hell In A Cell 2012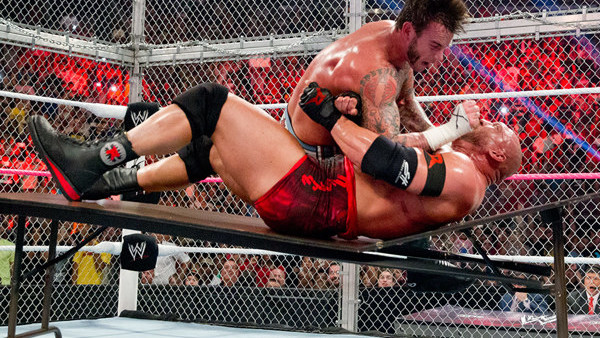 After months of tearing through jobbers left and right, Ryback caught fire as a babyface in late 2012. He had amassed a not quite Goldbergian 38-match winning streak on television and looked nigh on unstoppable as he began mixing with the main event boys. After John Cena voluntarily removed himself from contention, The Big Guy was given a shot at CM Punk's WWE Title inside the Cell.
WWE backed themselves into a corner somewhat with this one, as they had to either sacrifice Punk's mammoth title reign or Ryback's winning streak. The chose the latter, with Ryback losing thanks to a low blow and a fast count from crooked referee Brad Maddox. A lot of people were down on the decision at the time, since it looked like Ryback was genuinely on the verge of becoming a legit main event player.
The Straight Edge Superstar's comments in recent times with regards to working with Ryback have also shaded the perception of this match and their on-screen feud, but removed from those contexts the match itself is pretty good, easily Ryback's best to that point. Punk worked hard to put Ryback over and make him look strong and the bout was genuinely exciting in parts as it looked as though Ryback could actually win.
He didn't, but he still looked like a beast thanks to the post-match attack of Maddox and the Shell-Shocked he delivered to Punk on top of the Cell.