5 Ups & 2 Downs From AEW Rampage (April 15)
Rampage gets bloody (again); AEW books a weak finish; Wheeler Yuta wins.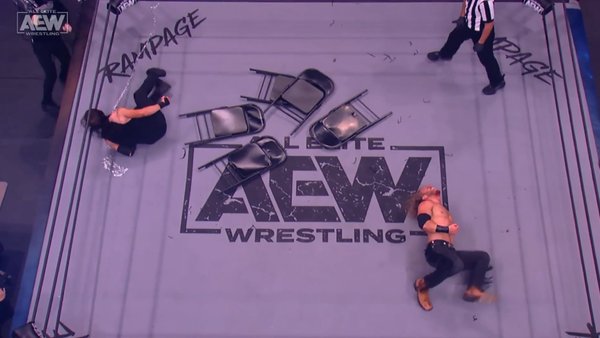 Behold the carnage.
AEW capped off this week's episode of Rampage with a 'Texas Death Match' brawl between Revolution rivals Hangman Page and Adam Cole. This was promoted as Cole's last big shot at the AEW World Title for now - if he couldn't beat Hangman here, then he couldn't beat him anywhere.
Christ knows what Tony Khan has in mind for Page next. A line barked by Cole mid-match may be a clue (he yelled out that Hangman couldn't lace Kenny Omega's boots), but that's conjecture from a fan more than anything concrete. One thing's for certain though: Khan has to seriously think about reining some of these bloody fights in, or at least staggering them.
They're fun, but fan burnout and overkill is a genuine concern. Yes, that is a minor grumble, but a valid one considering All Elite's love of "Wild West" style pro wrasslin'. Suppose they have to plug those three-month gaps between pay-per-views somehow.
Here's all the good and the bad from a pre-Battle Of The Belts edition. There was blood, there was barbed wire, there were tables and there was...a distinctly WWE-esque match finish?