5 Ups & 2 Downs From WWE SmackDown (Sept 15)
The Rock makes a surprise appearance; WWE SmackDown is stacked with star power.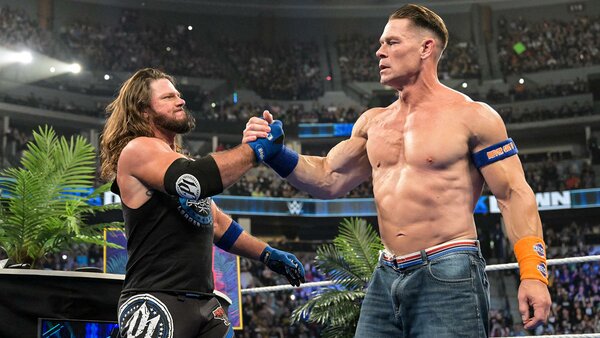 Expect AJ Styles and John Cena to star in a feel good buddy cop blockbuster that makes Hollywood proud soon. OK, not really, but the former rivals do look like they're heading for some tag-team action against the on/off brotherhood of Jimmy Uso and Solo Sikoa, and it says everything for this week's SmackDown that that wasn't even the tastiest tease.
WWE wheeled out The Rock for his first in-ring appearance in a while, and Pat McAfee even returned to screens to boot. In amongst all those familiar faces, creative did a lot to make fresher stars like LA Knight, Austin Theory, Grayson Waller, Solo and Shotzi characters fans should pay close attention to.
The writers got that blend between part-time attractions and full-time concerns absolutely spot on, basically.
No, there wasn't a whole hell of a lot of actual wrestling to sink your teeth into, but SmackDown flashed by due to tons of star power and a generally exciting buzz overall. Any gripes were minor, and only exist because of higher expectations. The good? Well, the good was f'n great.
Here are all the 'Ups' and 'Downs'.