5 Ups & 4 Downs From WWE SmackDown (Feb 26)
SmackDown's road to Fastlane begins with tension between Edge and Daniel Bryan.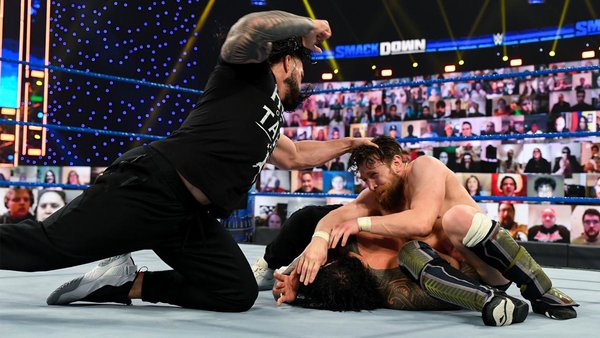 Daniel Bryan will be SmackDown's sacrificial lamb at Fastlane on 21 March.
WWE set about the task of adding Bryan into the Universal Title situation between current champ Roman Reigns and Royal Rumble winner Edge on Friday's episode. Did they succeed? Fittingly, YES! The smooth confidence of Roman on the mic, Edge's ability (and willingness) to play background character temporarily and Bryan's all-round credibility meant that this was a winner.
The writers know the deal with Fastlane - it's another unwanted roadblock for them on the 'Road To WrestleMania', and it doesn't even have a gimmicky USP like Elimination Chamber did. So, they're keen to stretch things out as much as possible before then, which will probably mean the pay-per-view's card gets fully fleshed days before it happens.
This week's SmackDown had some much-needed character development, overdue 'Mania 37 announcements, frosty babyface confrontations, logical promos and worrying signs for the blue brand's tag-team division. It also featured unwanted intrusions, struggling authority figures and something hardly anyone will care about.
Here are all the 'Ups' and the 'Downs' from WWE's latest outing at the ThunderDome.