5 Ups & 4 Downs From WWE SmackDown (Feb 26)
Downs...
4. Nobody Cares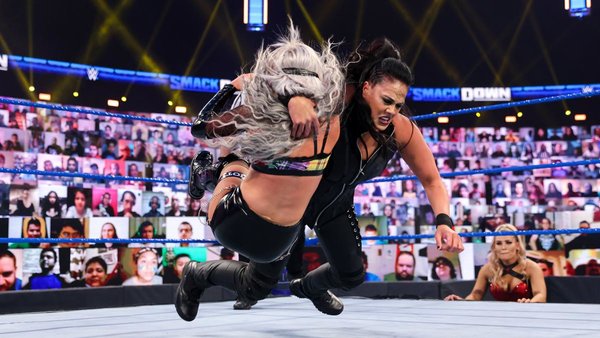 This article hasn't been kind to the women's tag division.
In fairness, why would it? WWE show a quite stunning lack of interest themselves, and they do such a poor job of preparing challengers that it's hard to give a toss. That apathy continued on this week's SmackDown when Tamina (who is suddenly getting the push treatment...again) destroyed Liv Morgan.
Both women tried, but it's tough to believe the company will follow this up with anything meaningful. For example, are Tamina and Natalya going to gun for Raw's Nia Jax and Shayna Baszler? Probably not, so what's the point of all this domination on SmackDown? It's going exactly nowhere.
Tam and Nat have been dealt the played-out mean veteran card, The Riott Squad look like jobbers and neither side even got a TV entrance here. It's all so half-baked. At least Michael Cole and Corey Graves did their able best to put it over on commentary.