5 Ups & 5 Downs From WWE SmackDown (Dec 3)
Brock Lesnar shines; WWE are obsessed with pies; SmackDown books a big return.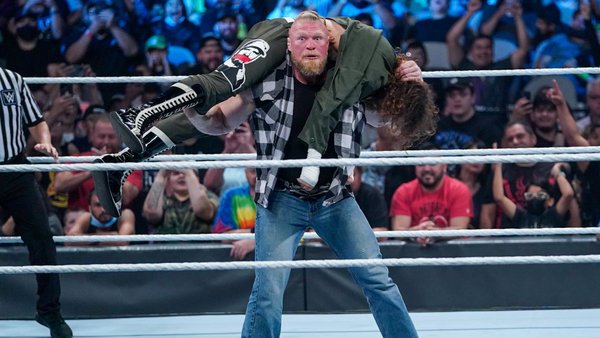 Thanks for coming, Sami Zayn.
Everyone's favourite delusional heel won a Battle Royal last week to earn himself a crack at Roman Reigns and the Universal Title. Anyone who thought Sami would get that shot at Day 1 was wrong though - WWE decided to give him the match on SmackDown. Well, sort of.
Brock Lesnar's return was the biggest selling point for Friday's show. The 'Beast' had a say in how Zayn's sudden opportunity played out, and it's now Lesnar himself who will challenge Reigns come 1 January. Most probably saw that coming, to be fair, but WWE did a neat job of shoving Sami out the way on FOX.
That was one of few booking high points, sadly. Warring ex-tag partners weren't given nearly enough time to work with, another duo were made to look like total simpletons, and the Drew McIntyre and Jeff Hardy pairing ended up looking like extras from Michael Jackson's 'Smooth Criminal' video shoot.
Then, there was the pie bullsh*t. This latest obsession is as unfunny as it is ineffective. There's no way it'll help the next SmackDown Women's Title feud along either, but WWE just can't help themselves.
Here are all the 'Ups' and the 'Downs'...