5 Ups & 8 Downs From WWE Raw (March 1)
Bobby Lashley reaches the mountaintop; Drew McIntyre shakes Sheamus; Baszler, tag titles neutered.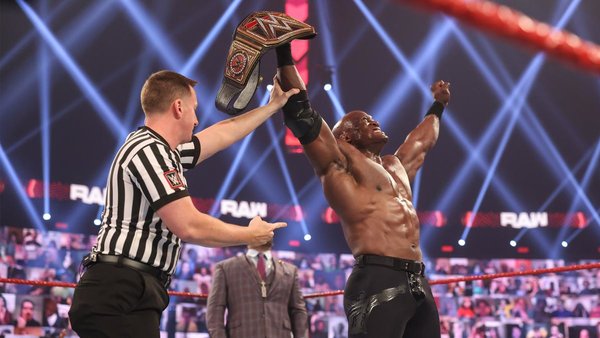 FINALLY.
Finally, WWE delivered a solid episode of Raw, though it came on the strength of two matches/angles. Beyond that, Raw was largely a misfire. But man, oh man, those two angles really hit, so even with Monday's episode tallying more "downs" than "ups" once again, we're going to give it passing marks overall.
Of course, the top angle of the night was the show-long story of Miz desperately trying to find a way to hold onto his WWE Championship to WrestleMania, or through the rest of the night, or at least for another hour. It was a frantic, exhaustive effort that finally culminated in the A-Lister getting his comeuppance at the hands of the biggest heel on the roster, Bobby Lashley.
And for Lashley, this represented the biggest win of his career, finally winning the WWE Championship after having been pegged as a future WWE world champion more than 15 years ago. And he did so after getting ramped up and then being forced to wait multiple times throughout the night.
Also, Raw gave us a massive blowoff match between Sheamus and Drew McIntyre that seemingly clears a path for the former WWE Champion to set his sights on the new champ (who also cost him his title).
But Raw also featured some horrible moments: devaluing the tag titles, neutering Shayna Baszler, jobbing Riddle and pitting Shane McMahon against Braun Strowman. More on those shortly.
Let's get to it…