5 Ups & 9 Downs From WWE Survivor Series 2021
Becky/Charlotte steal show, brand supremacy takes backseat to golden egg movie prop.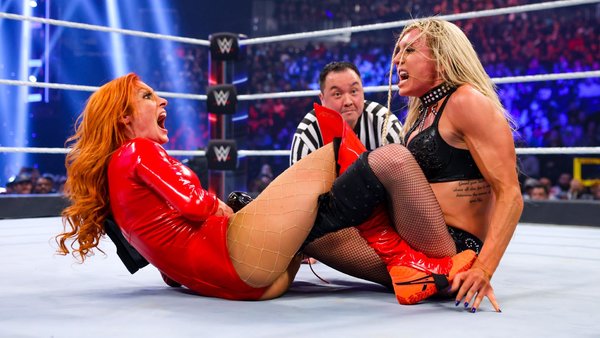 Welcome to WWE's second-longest-running PPV, Survivor Series, where the big theme of the night was… a golden egg.
Seriously, what is it with Survivor Series and eggs?
The company's last PPV of the year featured a white-hot opener between Becky Lynch and Charlotte Flair, and then went off the rails with mediocre wrestling and p*ss-poor booking. The two 5-on-5 Survivor Series matches underwhelmed, with extended heatless segments, lame eliminations and minimal drama. Bianca Belair got some shine in the women's match, but even that wasn't handled as well as it could have been.
WWE celebrated the 25th anniversary of The Rock's debut by holding an utterly pointless battle royal (sponsored by Pizza Hut!) that had nothing to do with Rocky, but don't worry, Vince McMahon had the solution to a Rock connection: a golden egg.
Yes, more time was spent on a golden egg that was a plot point in Rock's latest movie "Red Notice" than was spent on the issue of brand supremacy, which is the supposed entire point of the PPV. Suffice it to say, the egg was stolen during the show, so now it will be continued on Raw, so we have to endure more of this insane stupidity with a movie prop that everyone is pretending is worth $100 million.
What a freaking joke.
Let's get to it…