6 Most Embarrassing Things To Ever Happen Inside A UFC Cage
Sometimes sh*t happens – literally.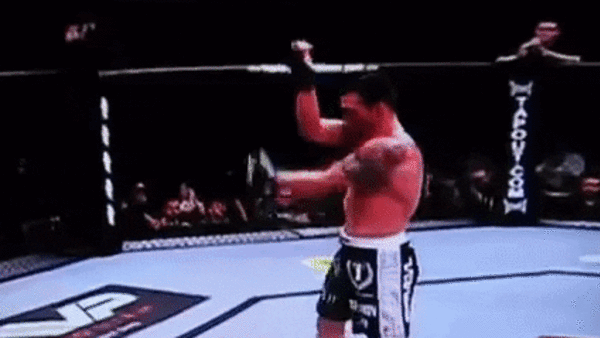 For every professional mixed martial artist in the world, when the cage door shuts, it's another opportunity to shine.
Moreover, for fans of the sport, it's the chance to watch mortal men and women try to achieve the sort of lasting legacy most folks can only dream of that keeps us coming back.
Of course, things don't always go according to plan. Often times, the path to MMA immortality is a treacherous one indeed.
Sure, anytime a UFC fighter steps in the cage, they run the risk of losing a bout in front of an audience of thousands — sometimes even millions. However, losing isn't the worst thing that can happen to a fighter. After all, some of the greatest to have ever set foot inside the Octagon have several Ls on their records.
Most fighters eventually come to terms with a loss. However, suffering a humiliating mishap in the cage, the kind folks talk about years later, can be much harder to shake. In fact, embarrassing moments often become more synonymous with a fighter than their greatest achievement.
To provide examples of instances that would illustrate the previous points, let's take look at some of the UFC's most embarrassing moments.
6. Justine Kish Defecates On The Mat
On 25 June 2017, strawweight standouts Felice Herrig and Justine Kish went head to head in Oklahoma City. It would end up being a contest that UFC fans won't soon forget.
Herrig versus Kish turned out to be an exciting battle that featured some solid grappling. As the fight went on, Herrig secured what's known as a body triangle. For those unfamiliar, a body triangle is a move that involves squeezing an opponent's stomach (or torso) with one's legs in a figure four position.
The body triangle is a fairly standard grappling maneuver in the UFC. However, this time around, it produced a very unique result.
After the move was applied, and the two women rolled over, several large brown spots were visible on the mat.
Justine Kish had just soiled herself.
To make matters worse, the fighters continued to grapple in the vicinity following the incident.
Kish, who would end up losing the contest via decision, took to Twitter after the fight. Her Tweet read, "I am a warrior, and I will never quit #Sh*tHappens."
Some fighters may threaten to beat the crap out their opponents, but Felice Herrig remains one of the few who actually did.