6 Ups & 2 Downs From AEW Dynamite (11 Jan - Review)
1. "Shut The Hell Up" Is Right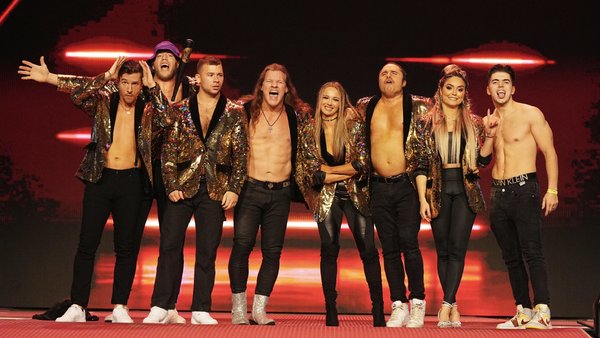 Above all else - and there was a lot of sh*te to crawl over - this felt unnecessary.
It was also cruel to those familiar with the customary format. This was botched in the LOLAEW manner that isn't going away after nearly four years; Excalibur had already started his run-through of the Rampage card before he was hushed. This usually happens moments before the main event. It didn't here, by mistake surely, as Ricky Starks Vs. Jake Hager was announced before it was built via an excruciating invisible wall segment.
Chris Jericho is in fact perennially unappreciated. People write him off, and then he works an incredible war with Tomohiro Ishii. The cycle is so familiar at this point that the first part really shouldn't be happening.
And then this sort of thing happens to make his apologists, like your writer, look stupid.
After cutting a generic heel promo, the Jericho Appreciation Society - who are feeling increasingly very tired as AEW elsewhere approaches something close to its best form - were interrupted by Ricky Starks and Action Andretti. All of this was beyond unwelcome; as the seconds dragged by, thoughts could only turn to how much time was to be allocated to Escalera de la Muerte.
And worse, the material was rancid. Lame jokes hurled over the WWE invisible wall, ancient misogynistic "banter", WWE-adjacent insults: this was the unwelcome guest at what should have been a party of a night for AEW.
Jericho will probably do something as magical as he did with Action Andretti in about a month, renewing the cycle, but the cycle is real, and very, very tiresome.