6 Ups & 2 Downs From AEW Dynamite (11 Jan - Review)
Downs....
2. A Confusing Mess Of AEW's Own Making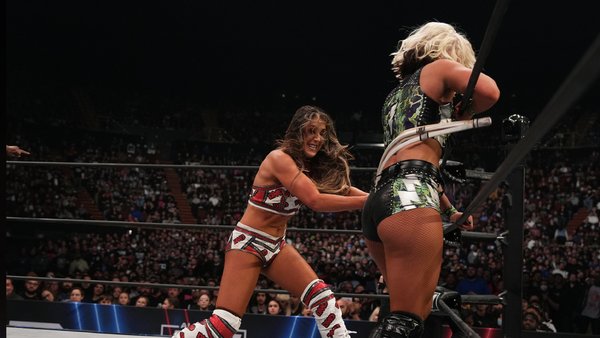 Something fell through. This must be the case.
Think about the incredibly intelligent use of resources across Rampage and Battle of the Belts last week. While they're all talented, what Tony Khan and his team achieved with Mike Bennett, Kip Sabian and Jeff Jarrett on Friday bordered on genius. He very obviously knows what he is doing, and that is an understatement. He simply isn't stupid enough to do what he did last night without an explanation.
Or perhaps this was just an inscrutable, terrible idea.
Khan senses the pulse of his audience better than any booker, and he must have known that, if not Mercedes Moné, his fans would have expected some surprise name or other when the mystery partner gimmick was announced five weeks ago. It was at best very naive, but until Dr. Britt Baker alluded to the "Boss" last week, it was unreasonable of fans to expect Moné to appear. How was that hint not rubbed out on the cutting room floor?
AEW invited and deserved the flak.
The match itself actually started brightly.
Unlike at Full Gear, Saraya landed an impactful, eye-catching dive that looked painful. She also dusted off a much-missed old standard by actually flooring Jamie Hayter with a drop-down off an Irish whip. That was lovely, smart babyface work, but that segues to another issue: what is going on with this dynamic? Saraya constantly screamed "This is my house!".
Was this a knowing tease of a potential turn, or is she still unaware that she appears entitled? If the former, why pair her with Toni Storm, whose motivation - she wanted vengeance for a facial injury - was worth getting behind? In theory, anyway.
Fans remain enamoured with the incredible Jamie Hayter. A committed fight of a match floundered, and badly, after the commercial break.
Whether as a result of the sloppy, tepid work in the second half or the slow realisation that Moné probably wasn't going to be there in the post-match, it died with a bleak, very confused hush.