6 Ups And 4 Downs From WWE Night Of Champions 2023
New champs crowned, Bloodline drama spills over, Cody's struggles continues.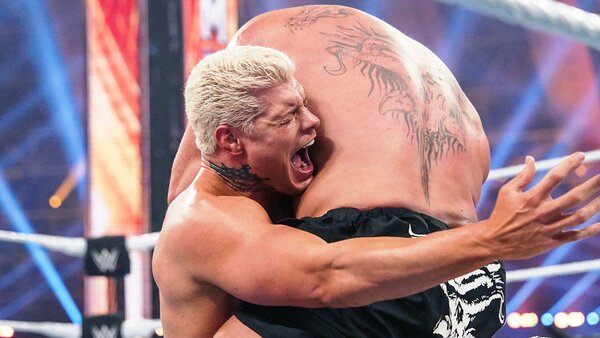 What do you make of a WWE premium live event where you crown a brand-new champion, have a title switch, and the main event sees the biggest faction in the company fall apart before your very eyes?
That alone might make you think this is a tremendous show worth checking out – and you're not entirely wrong. But WWE's Night of Champions was far from a flawless show, hampered by melodrama and strange writing leading into the event, and then an overly dramatic ending that diminished the main event somewhat.
Night of Champions delivered solid action and made the right call in several of its matches, including the new World Heavyweight Champion, both women's title matches, and the Undisputed WWE Tag Team Championship. But Cody Rhodes/Brock Lesnar will divide fans, and the antics in the main event involving the Usos will thrill many while leading to groans from people who are tiring of the never-ending drama surrounding the Bloodline.
Then there's the issue of the new world title being a near afterthought, but we'll mark that down now and check back in after a couple months to see if WWE has righted that ship.
Still, this was overall a very watchable and enjoyable show. And it obviously was a very newsworthy one.
Let's get to it…