6 Ups And 4 Downs From WWE NXT 2.0 (Jan 11)
AJ Styles makes a Phenomenal splash on WWE NXT 2.0 as a new era gets underway...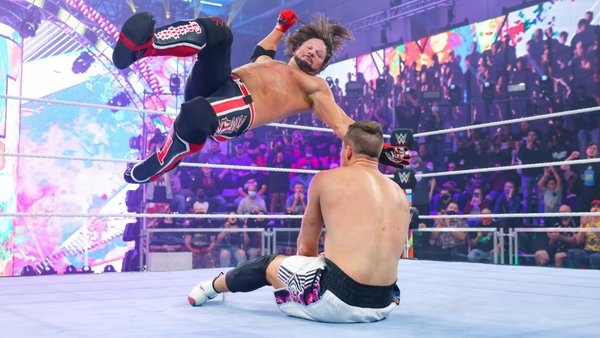 With New Year's Evil now well and truly in the books, WWE haven't exactly held back when referring to this week's episode of 2.0 as the beginning of a whole new era for the Tuesday night offering. A revamp and ANOTHER new era in less than a year. This multi-coloured show really is the gift that keeps on giving, am I right?
With the likes of Tommaso Ciampa and Pete Dunne being reportedly groomed for a main roster bow, or a sudden jaw-dropping departure - you just never know these days - it definitely feels as though those in the back are starting to really pile their eggs into the baskets of those chosen to fly this new and supposedly improved flag of developmental. And while the likes of Bron Breakker and Carmelo Hayes definitely offer flickers of hope as they carry their respective titles into this fresh territory, question marks still hang over some of the many other NXT projects currently being carted out on a weekly basis.
Bikini babe champs, more questionable love angles than an episode of Made in Chelsea, and giant middle-finger to another Triple H prized possession were all reason enough to be concerned about what the future may hold for what at times feels like a sinking ship.
And before diving into another hit-and-miss entry from the minds of those who have no clue what sells for those in-between the ages of 18-49, your writer offers a salute to the likes of William Regal, Scott Armstrong, Samoa Joe, and more of The Game's gang who were sent packing this week. More fool Vinnie Mac for stripping away his show's most valuable weapons...