6 Ups And 4 Downs From WWE WrestleMania 37 - Night 1
Bianca Belair's star-making moment, Bobby Lashley's reign continues, Bad Bunny dazzles.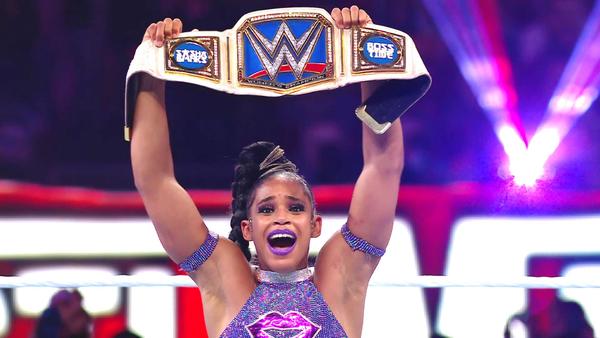 So after an awful season of building to the biggest PPV of the wrestling year, WWE put forth the first night of WrestleMania 37 Saturday, and it was… pretty good.
But let's qualify all of this: Even during the abysmal build to WrestleMania, there always was the potential for the PPV itself to deliver, because the performers themselves are more than capable of hitting it out of the park if they're given the opportunity.
For example, the Bad Bunny/Miz feud was a hit-or-miss affair for much of the spring, but their tag match clicked extremely well. WWE horribly botched a simple, straightforward rivalry between Sasha Banks and Bianca Belair, but both talented women delivered exactly what was needed Saturday night. The Hurt Business imploding was a huge letdown on Raw, but it didn't affect the WWE Championship match in the slightest.
Basically, WWE seemed to have gotten all of the gaga and poor storytelling out of its collective system on the Road to WrestleMania, getting rid of the chaff and leaving us with the wheat. And while it would be fun to bring up every misstep leading to Mania, we'll simply grade it on what was put forth Saturday night.
But a note: WWE seemingly did everything in its power to drive down anticipation for WrestleMania, and that really did hurt it. But overall, this was a pretty strong showing for the first part.
Let's get to it…