7 Match Star Ratings For WWE WrestleMania 37 - Night 1
Sasha Banks Vs. Bianca Belair highlights best WWE main roster show since Survivor Series 2018.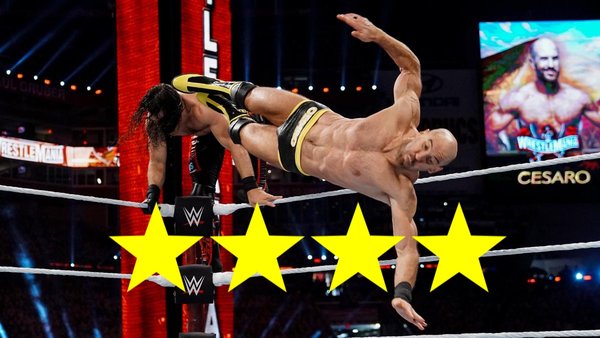 The build sucked.
In this article, you can be reminded of the extent to which the Road to WrestleMania sucked sh*t (TL;DR: it deep-throated stools).
But then something magical happened in the small hours as Friday became Saturday: WWE's Twitter account revealed the set design. It was a damn pirate ship and the pyro was cannon fire. And that's ultimately the base-level expectation of WWE in 2021, because the television show is the worst on literally any channel.
Anything as poorly-written as Monday Night RAW is in any other genre wouldn't get cancelled.
It simply wouldn't make it past the office of some perplexed executive reading the words with the human ache that only empathy can elicit. It's sad that the last embers of the human mind can produce this über-f*cked drivel, the executive would say, before throwing the drivel into the trash and scrolling through a pilot script that is even remotely acceptable enough for a big network to finance. WWE has monopolised an industry that is watched live by enough people that a desperate, fading TV business has thrown billions at it.
But that ship looked t*ts, and as a result of said monopoly, WWE has acquired quite the roster.
Did that roster, and Shane McMahon, deliver a spectacle worthy of the name 'WrestleMania'?
7. Bobby Lashley Vs. Drew McIntyre - WWE Heavyweight Title Match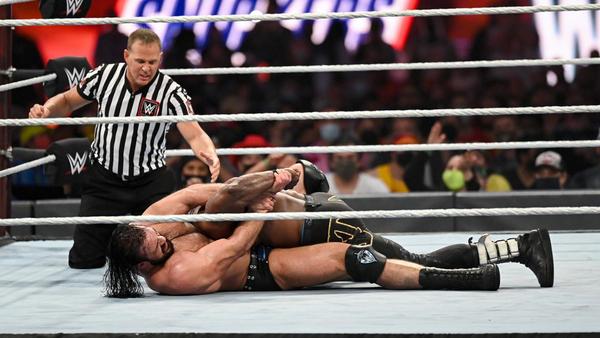 This was big fight-feel fare from the jump.
Testosterone-fuelled glares. Meaty shoulder tackles. Overhead suplexes. Big boy champ sh*t.
Bobby Lashley's heat sequence didn't drag, and while people are mostly too desensitised to really feel the peril throughout these early WWE storytelling obligations in 2021, Lashley made it look fairly brutal, at least, by scraping Drew's face off with a barrage of clubbing blows across the bracket.
Drew's comeback was t*ts; he dodged a spear at the last moment, and when Lashley ate the ring post, he fluidly transitioned into a submission hold, which Lashley simply punched his way out of in full beast mode. This developed into a very fun hoss fight laced with a real sense of craft and drama through McIntyre's yeet/yeet/neckbreaker combo. It developed a lovely NJPW rhythm even, as Lashley responded to a headbutt with an eat-sh*t chokeslam - as, somewhere backstage, Edge shed a solitary tear.
McIntyre's reverse Alabama slam looked awesome given whose gigantic face he nearly imploded, and Drew's massive dive to the outside was punished, in a nice story beat, as the desperate need to impress that it was. McIntyre had waited a year for this moment, but for Lashley, who got up first to apply the Hurt Lock, it was all business.
This generated real drama deep in a match that pushed Bobby Lashley the star as much as Bobby Lashley the unique MMA-influenced worker. The submission transitions ruled, and Lashley won with one of his own with a tremendous roll-through Hurt Lock in what was easily his best WWE match ever.
A real bummer of an ending washed away, nonetheless, by the show's end.
Star Rating: ★★★¾