7 Ups & 3 Downs From WWE WrestleMania 23
All Grown Up.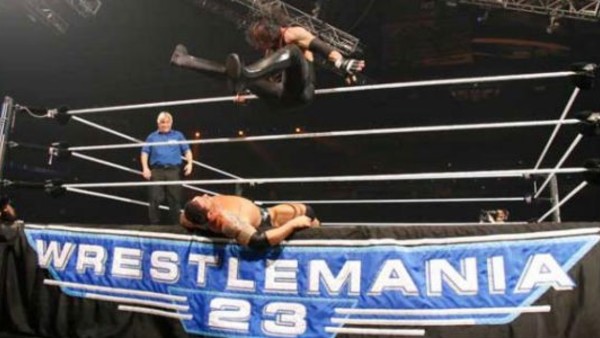 There are notable checkpoints from Triple H's career that have informed his insecurity over the decades despite his solidified spot as the heir to Vince McMahon's throne, and WrestleMania 23's rampant success could well be one of them.
'The Game' tore his quadricep for the second time in January, freeing up the headline spot for best buddy Shawn Michaels. Without Hunter (but with an outstandingly well-promoted celebrity involvement, and more on that later), the show was an utter sensation at the box office, drawing 1,188,000 buys as well as a reported crowd of 80,193 to Detroit for the event that marked a permanent return to Stadiums for the 'Show Of Shows'.
The upscale came at exactly the right time for the organisation - 2007 would serve as WWE's noughties annus horribilis following Chris Benoit's infamous actions in June, but WrestleMania remained the protected centrepiece either side of the foundation-shifting that took place in its devastating aftermath. Returning to the site of the historic WrestleMania III two decades later, the company presented the 'Grandest Stage' as "All Grown Up". For reasons out of anybody's control, it would soon have to come of age...
(Want more WrestleMania Ups & Downs? We got 'em: I, 2, III, IV, V, VI, VII, VIII, IX, X, XI, XII, 13, XIV, XV, 2000, X-Seven, X8, XIX, XX, 21, 22)