7 Ups & 4 Downs From AEW Dynamite (22 Mar - Review)
The Elite are attacked, The BCC get brutal, and "Dream Match" undersells a television all-timer.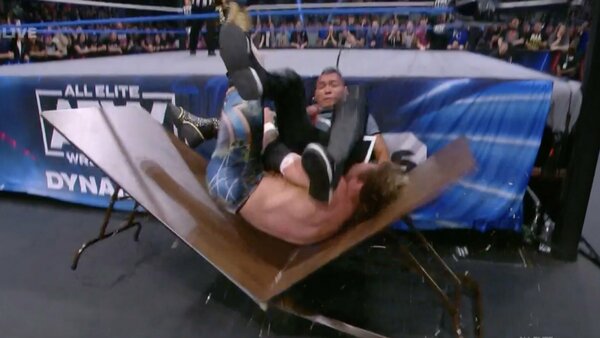 Ahead of a fascinating-on-paper edition of Dynamite, it was starting to feel like Tony Khan had might have his creative groove back.
The build to Revolution stuttered badly after a hot start to 2023, but the pay-per-view itself was anything but. That's not to say that the specific end justified the means, but the diverse and dynamic roster came through for the booker when he needed it most. With momentum seemingly back on AEW's side, a moribund edition of Dynamite left fans yet again wondering what exactly was the state of the company going forward.
The group's debut in Winnipeg seven days later offered some big answers.
The Elite are finding each other again, and as babyfaces literally and figuratively behind Hangman Page. As their opposition, The Blackpool Combat Club were suddenly bigger heels than when they'd actually turned. The Outcasts of the Women's Division met actual push-back from a group five-strong on the babyface side willing to fight for AEW's right. Canadian Stu Grayson was presented as the old heart and soul of the promotion in a standout undercard performance and rehired as a result.
As sweet as it was shrewd, the Canadian love-in took place as the promotion got set to sell tickets for their first tour North of the border. Thoughtful booking obscuring corporate synergy, perhaps brought about live events tsar Jeff Jarrett, who peaked in his own recent in-ring renaissance with an epic-feeling old school loss to Orange Cassidy.
And off the back of all of that, we got this - Omega working his first Dynamite singles match in over a year and a half, Jon Moxley cast as the party-spoiler against Grayson, and Cassidy linking arms with Darby Allin and Sting in more toasting of his International Championship success.
On paper, this is pro wrestling magic. In practice?