7 Ups & 4 Downs From AEW Revolution 2021
2. Lethargic Ladders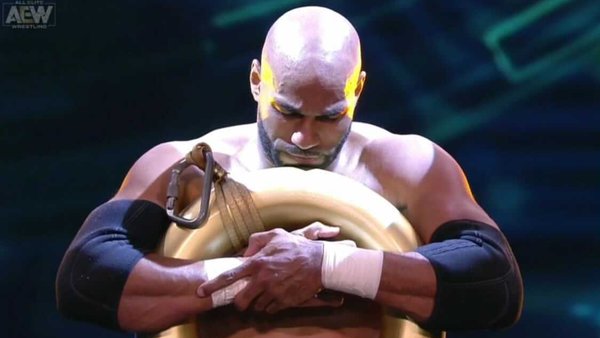 A literal brass ring hung above the squared circle as the first Face of the Revolution ladder match went down, which was a funny touch. Fair play to Scorpio Sky for reaching up and grabbing it as well: he deserves a big win like this and it'll be interesting to see if AEW finally pull the trigger on his big push.
It's disappointing that Sky's moment came at the end of such a lethargic ladder match, though. The bout had the usual array of big bumps and bombs, including Penta El Zero M killing Cody Rhodes with a Package Piledriver onto a propped up ladder, and the wrestlers worked extremely hard. Each one of them will have emerged from this battered and bruised. They deserve credit for that, 100%.
But when the wrestlers weren't bumping, the match was slow, sluggish, and stodgy. Low on excitement, any adrenaline-pumping moments were snuffed out before they could ever build, with the match slipping back down into second gear when it should have been moving up to fourth or fifth. The giffable spots were hot; there was just nothing in between them. At times, this was genuinely dull.
Ethan Page was the mystery man. He should make a good addition to the AEW roster as he has been ready and refined enough for a role on mainstream wrestling television for years. It's a shame he couldn't have had a more memorable bout to debut in, but such is life. A nod, too, for Max Caster, whose bars get sharper as he gets harsher.