7 Ups & 4 Downs From WWE NXT 2.0: Halloween Havoc 2021
NXT's new era takes over; WWE get a little too goofy; Chucky runs riot.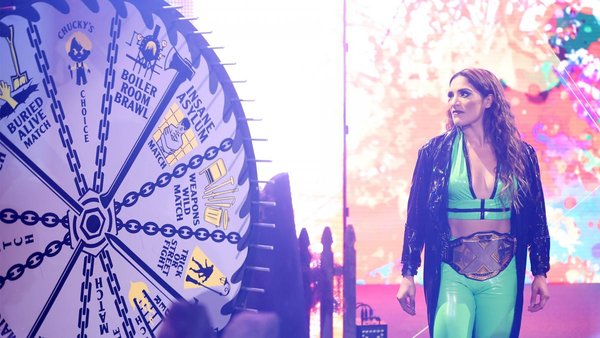 WWE could've called this NXT TakeOver: Title Changes.
NXT 2.0 hasn't charmed every fan (that's especially true for those who loved the old format), but one can't argue with the company's desire to look towards the future of the brand and push new stars. Halloween Havoc, despite the ancient NWA/WCW name, was indicative of this forward thinking approach.
Three titles switched hands on the card, and WWE went with that menacing little bastard Chucky as the guest host. If that last part sounds horrible, then don't worry - ol' Chuck fared way better than some of the other spooky shenanigans sprinkled throughout the two-hour show. Honestly, can wrestling just do away with party scenes as a general rule?
Several matches kept Havoc afloat, at least. There was a decent ladder fray (one that was weirdly placed, which certainly isn't something the talent should be blamed for), a fun and chaotic street fight, some frantic tag-team action and a solid main event.
If you're sitting on the fence and unsure whether or not NXT 2.0 is for you, then please know that the overall broadcast clicked. Some pesky 'Downs' kept it from being better though...