7 Ups & 4 Downs From WWE NXT 2.0: Halloween Havoc 2021
Downs...
4. Questionable Formatting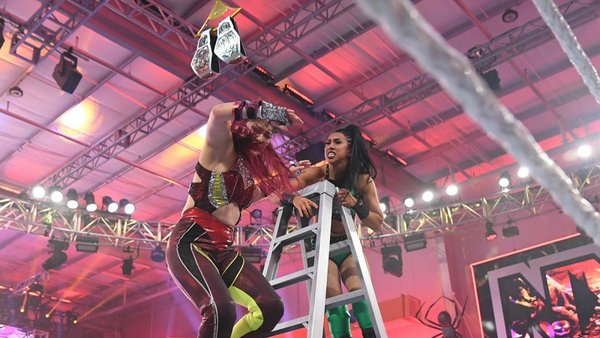 This 'Down' isn't aimed at the talent involved in that opening ladder match. Everyone worked hard, and there were some meaty bumps. Io Shirai, in particular, took quite the tumble onto one of the ladders that must be seen. Thankfully, she's alright and was moving freely backstage afterwards.
WWE though? Yeah, what the hell were you guys thinking putting this on first?! The last major company bout before this was that four-way ladder scrap on Raw between Seth Rollins, Finn Bálor, Kevin Owens and Rey Mysterio. This is the most minor of complaints, sure, but it might've been nice to give NXT ladies some breathing room.
Back-to-back ladder matches = a mistake.
Some may argue that they're on different shows and happened almost 24 hours apart. That's cool, but Havoc's match didn't feature much that fans hadn't just seen on Monday. Somebody should've suggested that the tag opened up NXT instead.