7 Ups & 6 Downs From WWE Raw XXX (23 Jan - Review)
The Bloodline saves Raw from yet another uneven mess of a milestone show.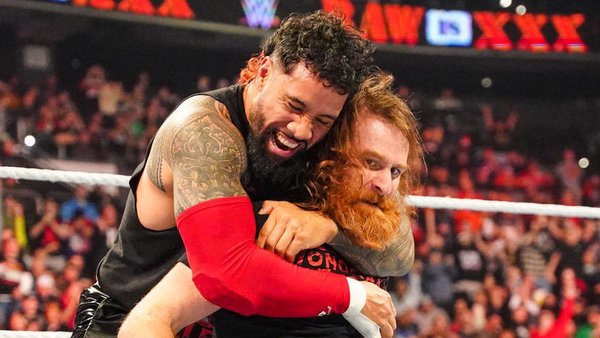 Let's get this out of the way right from the top: The Bloodline saved this Raw from being its usual mess of an uninspired mess of a navel-gazing, self-copulating milestone show.
The trial of Sami Zayn, its verdict and the ensuing Raw tag team title match that followed dominated the first hour of Raw XXX, and it was cinematic gold. Nearly everything about that first hour (save for Hulk Hogan opening the show) was perfect, with the Bloodline putting Sami through his paces, giving him a reprieve, and then having Zayn bail out the Usos in dramatic fashion.
After that, however, Raw took a tumble. You had a guy in a standout match this weekend looking like the biggest geek on the planet, a previously announced match scrubbed, a babyface champion handing off a challenger, and more impromptu matches.
Raw XXX was still overall enjoyable, but remove that first hour and you'd have a pretty blah show for what was supposed to be a major episode celebrating three decades of WWE on Monday nights.
Honestly, WWE really needs to re-evaluate how it does these reunion/milestone shows, because their formula rarely works well consistently throughout an episode. We'll get some nice moments, but they often become a mess of good, bad, and unbearable.
Let's get to it…