7 Ups & 9 Downs From Last Night's WWE SmackDown (April 2)
Downs...
9. Pointless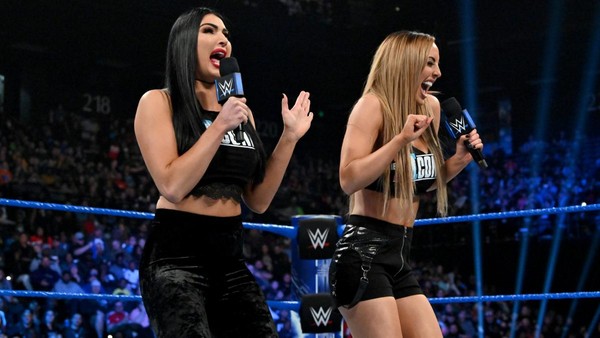 Billie Kay and Peyton Royce performed their brief in-ring promo well enough. They acted boastful, put their characters across, hit their catchphrase and signature pose, and likely annoyed anyone paying attention in the arena. That's all fine, but there was no need for this to be on the show whatsoever.
Sure, it only took a couple of minutes up, but The IIconics said absolutely nothing we haven't heard before. Their diatribe was a regurgitation of words they've already said several times. A confrontation with one (or more) of their opposing WrestleMania 35 teams may have helped freshen it up, but we didn't get that. Instead, it was another middle-of-the-road talking segment on a show full of them.
This slab of filler was likely only thrown together to help fill the time lost when Rey Mysterio vs. Andrade was cancelled. If that's the case, it showed.