7 Ups And 4 Downs From WWE Clash At The Castle
WWE's first UK PLE in 30 years is eventful affair with good action, turns and debuts.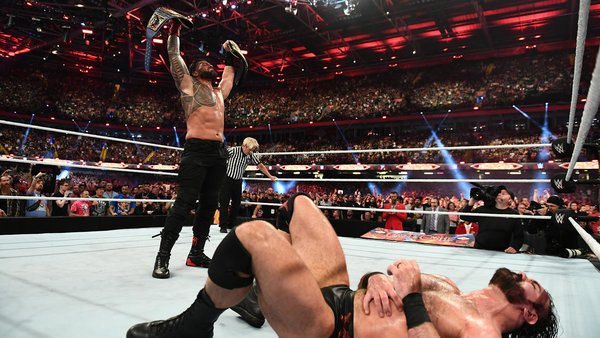 WWE's first premium live event (or PPV) in the United Kingdom in 30 years came with high expectations. SummerSlam 1992 was a huge deal, and it's only grown in lore over time.
Throw in that this was a stadium show in front of 62,000 fans and you have an edict to deliver.
The result was an energetic, high-octane show that had the live fans engaged from the opening bell with solid-to-excellent in-ring action, a couple surprises, and some memorable moments to make this a meaningful show (rather than just filler).
However, Clash at the Castle was not without its concerns. The six-woman tag had a high bar set, and it's debatable whether it cleared it. Matt Riddle spent his summer getting his head stomped in and then his personal life's dirty laundry aired, only to get beaten and humiliated further.
And then there's Drew McIntyre, who came into the match with the weight of the UK on him, and he closed out the night title-less and signing karaoke. No way a DraftKings gambler could have predicted that one.
Still, Sheamus and Gunther tore the house down. And Dominik Mysterio finally made up his mind about his loyalties to his father Rey. And really, enjoyable wrestling, a couple cool debuts and a hell turn is about all you can ask for on a WWE show. Thumbs up overall.
Let's get to it…