7 Ups And 5 Downs From WWE Crown Jewel 2021
Hell in a Cell, singles title matches shine; Goldberg fails to commit murder.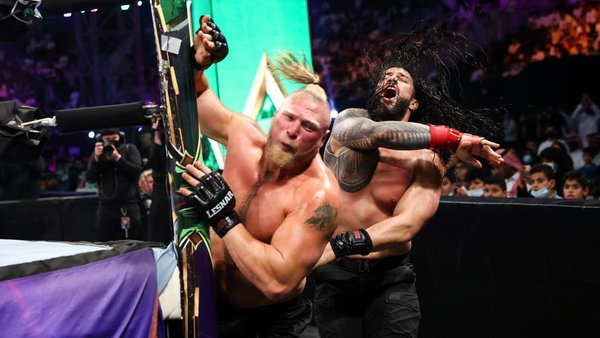 Despite the horrible build of several of the matches for Crown Jewel, on paper, the PPV looked like it could be an easy thumbs-up of a show. You had big stars, big matches and talented wrestlers aligned to deliver.
And that's what we really got from several of the matches, with the Hell in a Cell opener and three singles title matches really clicking and providing WWE with a pretty good PPV Thursday. The two world title matches looked like heavyweight slugfests that didn't waste time with insignificant stuff. And the SmackDown Women's Championship match was an outstanding triple threat that avoided WWE's usual trope of constantly throwing one participant out of the ring over and over and over.
But Crown Jewel also gave us a lackluster Queen's Crown final, capping off a dismal and profoundly disappointing inaugural tournament. And we had to endure Goldberg shrugging off chain shots that should have dropped him in the opening seconds to overcome Bobby Lashley and beat him… but not deliver on his promise to murder him.
Overall, Crown Jewel was an enjoyable PPV that made you wonder why WWE can't deliver this sort of show all the time, and not just when there's blood money on the table. That is probably the most disappointing point of this show.
With that said let's get to it…