7 Ups And 5 Downs From WWE Great Balls Of Fire
Don't let the crappy name fool you: This PPV rocked the house Sunday night.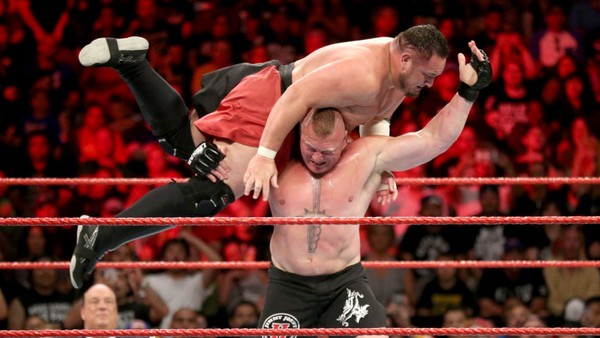 Sunday's PPV might go down as one of the worst-named good PPVs in WWE history. Great Balls of Fire was an abysmal-sounding special event, but the matches were either passable, good, really good, or awesome.
The top of the top for wrestling fans had to be the 30-minute iron man tag title match, with Sheamus & Cesaro battling the (still not Broken) Hardys and keeping fans on the edge of their seats throughout. Just a fantastic bout that is worth checking out.
If you like trainwrecks, the two main-event bouts definitely delivered in spades, including a backstage segment that certainly left a raw taste in your mouth. It's hard to call Roman Reigns a virtuous babyface after that affair. Perhaps that's the plan, but it certainly didn't make him look like a hero.
We also saw some nonsense, as Bray Wyatt and Seth Rollins battled over whether Rollins should acknowledge Bray as a god. At least, that's what it seems like they were feuding over. It's tough to tell what else is driving them, because neither made overtures about challenging Brock Lesnar for this Universal Championship.
We also saw part 37 of the Miz and Dean Ambrose. Please, just make it stop so both can find new dance partners. And issue a restraining order so they can't face each other for at least two years.
With that said, let's take a look at what F-5'd the competition and what got tossed into an ambulance. Let's get to it.