8 Big Questions About Vince McMahon's XFL Reboot!
8. Will There Be WWE Crossover?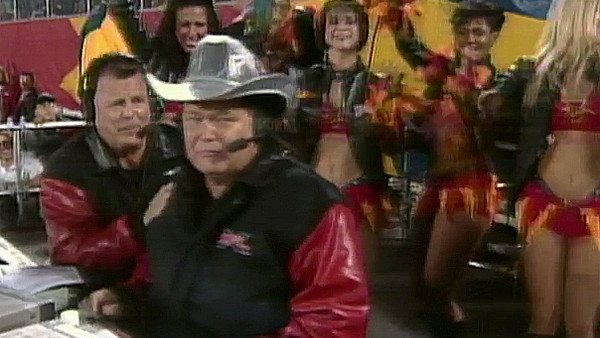 Part of WWE's plan to boost the XFL's appeal was to have several notable names from their wrestling product cross over from the squared-circle to the, er, rectangled-rectangle. The likes of Jerry Lawler, Jesse Ventura, and Jim Ross - seen here having just the time of his life in a dazzling silver stetson - all put the headset on to provide raucous commentary on the ostensible 'action'. If football fans didn't like it, at least wrestling fans would - and there were a lot of them in 2001.
16 years later, WWE isn't quite so in vogue. Would a rebooted XFL benefit from, for example, Byron Saxton calling the action? (Does anything?) To be a success in 2018, it's entirely possible a new football league would have to be as far removed from the company's primary output as possible. Too bad, Mojo Rawley.
Benjamin Richardson
Benjamin was born in 1987, and is still not dead. He variously enjoys classical music, old-school adventure games (they're not dead), and walks on the beach (albeit short - asthma, you know). He's currently trying to compile a comprehensive history of video game music, yet denies accusations that he purposefully targets niche audiences. He's often wrong about these things.
See more from Benjamin