8 HUGE WWE Money In The Bank 2022 Predictions You Need To Know
7. Ronda Rousey (c) Vs. Natalya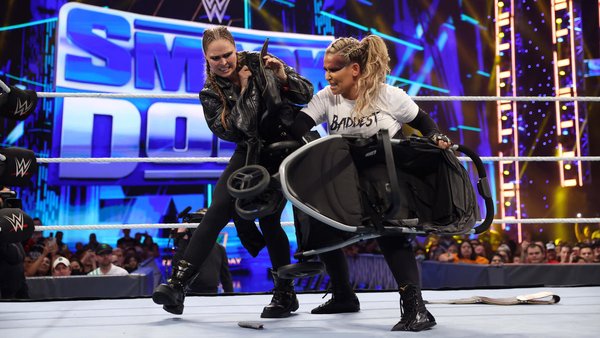 Ronda Rousey's 2022 return has mostly been a disappointment and a drag.
Normalised in the extreme by a middling build to WrestleMania and a loss on the 'Show Of Shows' itself, 'The Baddest Woman On The Planet' won the title in a far better match at WrestleMania Backlash but has been marooned on a listless SmackDown roster ever since.
Neither pushed as a Roman Reigns-level part-time leader nor once-a-week stewarding general, Rousey's had to work filler programmes against filler opponents following the loss of speculated summer opponent Sasha Banks. The circumstances were less than ideal there, obviously, but the transparent lack of replacements has embarrassed WWE's broken creative process and the SmackDown Women's Champion herself.
Natalya will not and can not win the title, nor should anybody be expecting anything less. B-Shows sometimes need B-Show opponents, but just two months ago this show was still supposed to be taking place in a stadium. For the good of Ronda's future on top, this would be best served resembling her UFC peak and being timed out in seconds rather than minutes.
Winner - Ronda Rousey