8 Innovations TNA/Impact Brought To American Wrestling
7. All The Unique Match Stipluations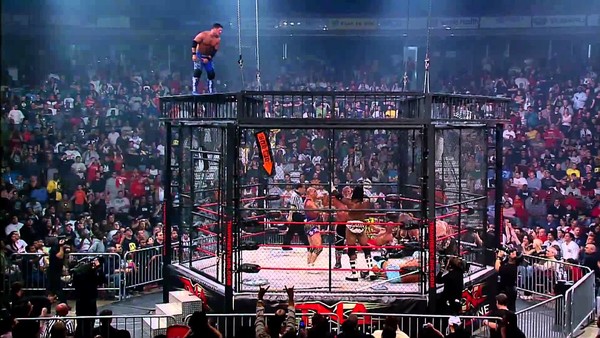 Even if you're not a hardcore fan of Impact Wrestling, chances are you've heard of some of the weird and wacky match types they've introduced over the years.
The Ultimate X Match, the Lethal Lockdown Match, the King of the Mountain Match, the Doomsday Chamber of Blood Match, the Reverse Battle Royal. Sure, not all of the stipulations proved to be popular, but you can't knock Impact for trying.
As it pertains to the Lethal Lockdown and King of the Mountain Matches, they were both typically held once a year at the Lockdown and Slammiversary pay-per-views, respectively. While we've become accustomed to raising our pitchforks at WWE for hosting annual match-themed events like Hell in a Cell, Impact always ensured the matches themselves warranted being within these confines.
Take the Lethal Lockdown Match for example; the likes of Team TNA vs. Aces & Eights in 2013, Team TNA vs. Team GFW in 2015, and the family feud between team captains Eric and Garett Bischoff in 2012 had all gotten so out of control that the steel structure was the only reasonable option.
Before the global b*stard knocked plans out of place last year, Impact had confirmed the return of both of these matches. You'd have to assume that both will reappear at some point, ideally after fans have returned to the Impact Zone.