8 Match Star Ratings For AEW Full Gear 2023
Hangman Page Vs. Swerve Strickland: gory self-mutilation is glorious pro wrestling violence.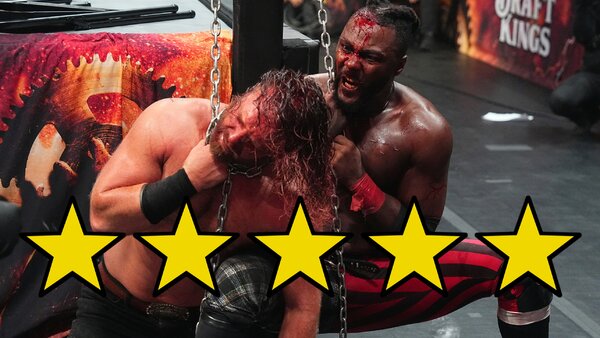 At the post-Full Gear press conference, something less than ideal happened.
No, CM Punk didn't ruin the vibe of the company for around a full year. Tony Khan insisted that he wasn't BS'ing about the Continental Classic; there will be no outside interference, and all managers, stablemates etc. are barred from the ringside area. He said that the fans who have petitioned for this sort of thing better "put their money where their f*cking mouth is" and tune in.
Oh boy.
This was ill-advised.
Firstly, with one petulant outburst, Khan hardly framed the upcoming tournament as a passion project. It was as if he'd been nagged into it! Also, and time will tell shortly, the prize on offer indicates that it won't be a proper AEW G1, but a slightly more diluted version of it.
In a broader sense, Khan directing a tantrum towards the outspoken core fans, who actively invest in and want the company to be better and tighter, is yet another addition to the list of "Ways AEW is slowly morphing into WWE" this year.
As ever in 2023, the theme of Full Gear was AEW: A Tale of Two Companies - and what's sobering is that one company is considerably better than the other...
8. The Patriarchy Vs. Sting, Darby Allin & Adam Copeland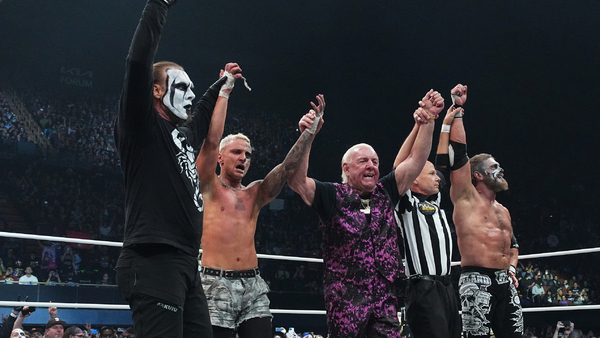 Christian Cage is revered by his peers as somebody equipped with a diamond sharp mind. This match crystallised his brilliance, since he was barely physically present.
In an excellent crowd-pleaser of a Trios opener, Cage worked it, in effect, like a cockroach. He scuttled into the ring only when he deemed himself safe from Adam Copeland and, his inveterate cowardice acting like a sensor, bolted out of dodge the second that the threat manifested. In one excellent glimpse into that mind, and his immaculate timing, Cage sidestepped on the apron as Darby ran the ropes to crack the back of Darby's neck against the top rope, allowing Luchasaurus to execute a sickening chokeslam on him to the apron. Cage, so afraid of wrestling Copeland, worked his role as if invisible. In secret.
This was literally true when he sprinted underneath the ring to knock Darby off the apron. Cage is a rat, a perfect heel, on the evidence of this match the antithesis of a get your sh*t in professional wrestler. All the babyfaces were afforded the chance to perform their hits after Copeland had scared Cage away.
This was a very, very good exercise in building and releasing tension, giving nothing of significance away without leaving the audience wanting.
Star Rating: ★★★¾