8 Movie Characters That Should Be WWE Gimmicks
7. Mickey - Snatch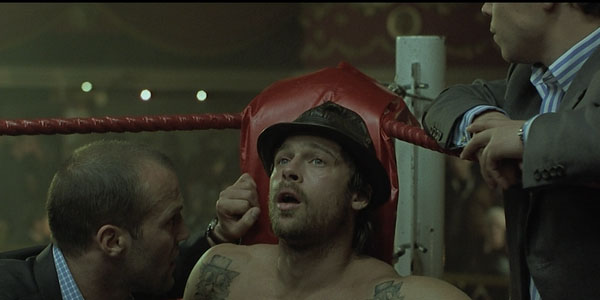 Snatch is high on my personal list as one of the best films of all time. There€™s boxing promoters, clever dialogue, ridiculous characters, and everybody has an accent except Dennis Farina. Actually, that€™s a lie. Farina has an accent, just not an English accent. The driving plot in the film focuses on Jason Statham€™s character, Turkish, who is a boxing promoter that has to use Brad Pitt€™s character, Mickey, as a last minute sub in a boxing match after Mickey KO€™d Turkish€™s original fighter over a caravan swindle. There are many more variables involved in the story, but that€™s really as much as you need to know if you haven€™t seen the film € Which, you really should have by now and if you haven€™t, shame on you.
Why It Should Be a Gimmick: Spirit
Mickey€™s charm comes in the positive personality that he presents to his given circumstance. He€™s a Pikey, meaning he€™s underemployed, undereducated, and for Mickey€™s sake, he resides in a trailer park community. His greasy hair and grungy appearance parlays into an image of street youth or scrapper. Where Tommy Conlon didn€™t want to fight, Mickey has to fight. In fact, he fights so much so, either in the ring or within the social order, that fighting is who Mickey is. His physical features, dress, attitude, and language all combine to form a character that is well aware of his class of people, embraces them for the positive attributes that they exhibit, and takes pride in holding true to his people and his family. Plus, he likes dags.
The underclass-bare-knuckle-boxing-champion-fighter-turned-pro-wrestler is a character that hasn€™t really been explored in the WWE, either. There have been multiple attempts to promote certain wrestlers based on their previous tough man tournament experiences, such as Sean O€™Haire years ago and more recently Wade Barrett, but WWE€™s creative has never quite dove deep enough into the quirks of a character such as Mickey. The pikey language, the ticklish mannerisms, and the grit to take on all-comers would seem to be a babyface with a lot of potential to a popular, profitable character.
Nick Boisseau
Nick Boisseau is a feature writer and poet, currently existing on the fringe of academia. He holds a B.S. in History and is a graduate of the September 2006 class of Storm Wrestling Academy. @DBBNick DonnyBrookBoys.com
See more from Nick