8 Times Triple H Thought WWE Royal Rumble SUCKED
Did you know? WWE boss Triple H has had some RUBBISH nights at Royal Rumble.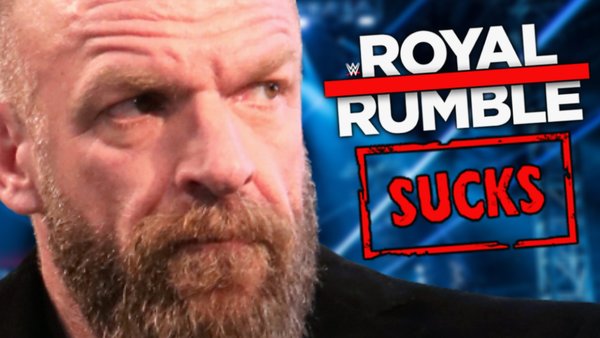 Triple H was living his best life at the 2002 Royal Rumble. The reborn babyface rocked MSG earlier in the month, then won the famous 30-man match to secure a certain World Title triumph at WrestleMania X8. It was one of the best moments from an iconic career, and Trips would experience Rumble success again in 2016.
Such Rumble happiness would be fleeting for 'The Game' though.
You might be surprised by how many stinking moments Hunter has had on one of WWE's biggest stages. The Rumble is an annual launching point for 'Mania season, but the current head of creative (watch this space!) has worked some of his most miserable matches on the beloved pay-per-view series.
From jobbing on pre-shows to forgotten federation footnotes, struggling to open dome shows and suffering career-threatening injuries, to having flops vs. WCW stars and living unwanted backstage drama, Trips has seen pretty much everything the Rumble's worst has to offer.
He's probably in for a bit more of it too, which is an insane thought mere weeks out from the 2023 version. Here's why Triple H thinks your favourite PPV sucks.
8. Jobbing To A Garbage Man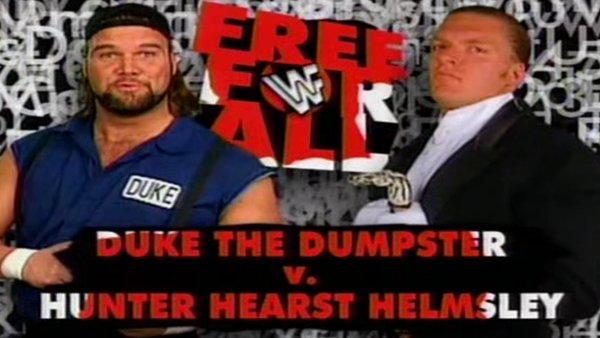 These entries will be in chronological order, and with good reason - it's important to go on a journey with the one time Hunter Hearst Helmsley and experience his Rumble misery on a timeline. In 1996, Trips worked his first one, and it was...well...he lost to a bin man.
Oh, sorry. He lost to a bin man on the pre-show.
Hunter jobbed to Duke Droese (who was called "Duke The Dumpster" in match graphics) on the '96 Rumble's 'Free For All' portion. Mr. Perfect tried to put him over on co-comms that night, but nothing could save Helmsley from the indignity of losing to a Superstar regular who was struggling to get over as a babyface.
Sure, Triple H did get to work a full 48 minutes in the Rumble match later, but staring at the lights for a garbage man was one of the early low points from his WWF/WWE career. Things would be on the up and up from here on out, right? Right?!