8 Times WWE Thought They'd Be Invaded FOR REAL
7. Matt Hardy Loses It After WWE Firing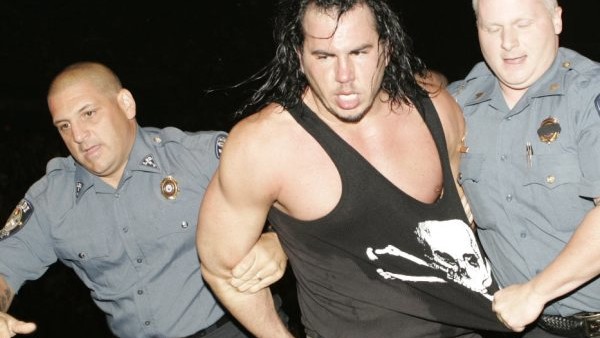 For Matt Hardy, he was massively done dirty back in 2005.
Having found out that his real-life girlfriend Amy 'Lita' Dumas was having an affair with his real-life best friend Adam 'Edge' Copeland, Hardy was the one ultimately fired by WWE once this situation became public.
In one fell swoop, Matt had lost his girl, his bestest bud and his dream job.
Granted, Hardy's online tirades about the situation played a factor in him being the one to make way in all of this, yet Edge and Lita weren't punished by WWE in the slightest - and this entire controversy was the catalyst for Edge becoming a true main event player.
Using social media to vent his very real pain and frustration, Hardy took on the persona of the Angelic Diablo and publicly lambasted Edge, Lita and WWE as a whole, particularly singling out John Laurinaitis.
Given Matt's understandable, if not a tad erratic rants, WWE clearly feared that he would turn up at one of their live events or TV tapings. So much so, they ended up taking all of this real drama and spun it into WWE programming by rehiring Matt Hardy and having him engage in a worked-shoot feud with Edge.