8 Ups & 0 Downs From NXT TakeOver 36
Three titles change hands. Adam Cole takes his final NXT bow? TakeOver goes out on a high?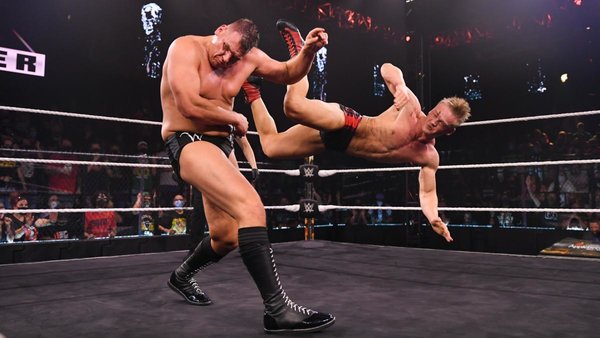 There are no 'Downs' to report.
WWE are promising big changes for the NXT brand, so this could be considered a swansong of sorts for the classic TakeOver format. If so, then that roster deserves a healthy bonus for the way they went about their business on Sunday night. After CM Punk's emotional AEW debut and a newsworthy SummerSlam card, NXT's finest produced one hell of a pure pro wrestling show.
Variety was the order of the day. WWE put on weapons-based brawls, slow-burning stories, insanely physical epics and more. They also ended the evening with a title change that should rock the boat on Tuesday nights going forwards - Karrion Kross is Raw bound, and Samoa Joe will lead NXT into a bold new future.
At least temporarily.
TakeOver 36 was a quite dazzling end to the weekend. It'd be a lie to say that each match topped the one before it (one midcard effort easily could've headlined), but there were no bad bouts here. Long live that TakeOver formula. It's just a pity that WWE couldn't move out of the CWC for this one and play the hits in front of 15,000+.
Get ready for a boatload of positivity...