8 Ups & 7 Downs From WWE Raw (Nov 1)
Bianca gets waylaid, Rollins grates, E shines, Gable and Theory impress.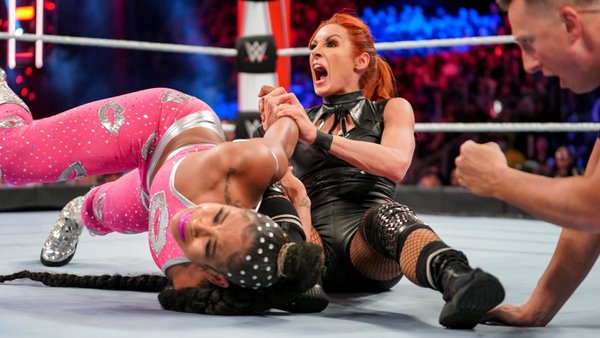 It would be tempting to label last night's WWE Raw as a success story because they clicked in several different areas. But that would be ignoring reality.
We've said numerous times that simply counting the ups and downs is not a fair way to assess the quality of a program. Rather, there's weight to those critiques, and this week, the negatives are somewhat heavy.
We just watched a perfect storyline build for a homegrown superstar who was on a roll in 2021 seemingly get derailed and the wrestler brushed aside. Of course, that could all change with a twist or turn, but it's hard to have faith that WWE will treat Bianca Belair any better than they've treated Rhea Ripley this year. Who would've thought back in mid-April that both women who captured gold at WrestleMania 37 would be shunted down the card six months later?
Seth Rollins' shtick just isn't entertaining in the slightest; it isn't even good smarmy heel stuff where you enjoy booing him. (That's something that Austin Theory is nailing in the mid-card right now.) Long-term planning isn't a strong suit, but tapping Liv Morgan as Becky Lynch's potential next challenger after losing her last two televised matches in less than five minutes combined isn't exactly smart.
Still, there was some good work from Chad Gable, RK-Bro, Theory, Damian Priest, T-Bar and Big E, so there's plenty to praise here. But the bad is pretty bad.
Let's get to it…