8 Ups And 2 Downs From NXT TakeOver: New Orleans
NXT sets the bar really, really high with outstanding action.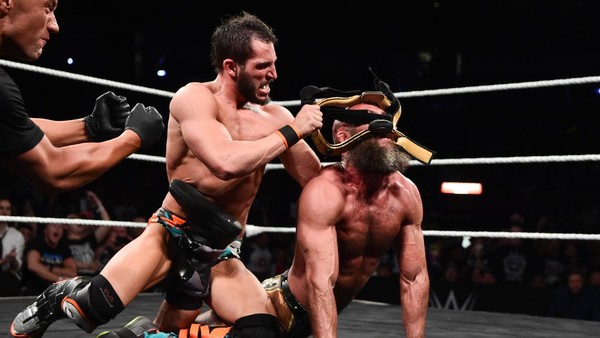 The wrestling portion of WrestleMania weekend kicked off Saturday night, and the show might have been stolen already.
NXT TakeOver: New Orleans delivered an absolutely phenomenal show that has already garnered talk about being the best TakeOver special yet. If you weren't entertained and didn't like this show, you probably should crawl back under your rock and stay there. The worst match of the night was above average, while three of them were in the "great" range.
The centerpiece to TakeOver was of course the culmination of the long-simmering feud between Johnny Gargano and Tommaso Ciampa, a rivalry that began nearly a year ago. Ciampa had since cost Johnny a title match and his job at NXT, and Saturday's match was his last chance to win back employment and exact revenge on his former tag partner.
The other four matches were title bouts, including a ladder match for the new North American Championship, which also served as introductions to two new NXT superstars, the debuting Ricochet and the returning/re-debuting EC3. That contest delivered several memorable moments, and nearly stole the show.
If you missed this show, watch it. There's no excuse.
With that said, let's count the ways this was awesome. Let's get to it…